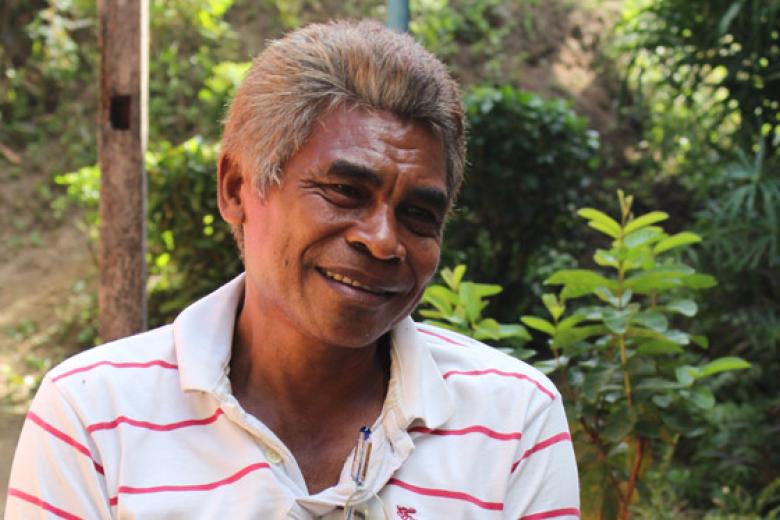 Joint marketing supports our children's school tuition
Friday, December 12, 2014
The sun always shines brightly in Sikka, and the rain is rare. But it does not mean that this land of Flores can not produce anything. Look at the fruitful coconut trees in Bloro, a village in Sikka. Most of the villagers here work as farmers and depend on candlenut, coconut, cocoa, and pepper crops.
Fransiskus, 67, smiles widely. This white-haired man lives a simple and modest life which is common in Bloro. Every day he works as farmer to earn his family's needs.
He is also chief of the Multi Business Cooperative (KSU) Plea Puli. The cooperative was established in August 1990 and focuses on financial, farming, and livestock marketing. Althought it was established decades ago, it was floundering.
In 2011, Wahana Visi Indonesia in Sikka started to assist Plea Puli and introduced joint sales marketing for the member's crops. The village enterprise helps farmers earn higher prices for their crops through the auction process, removing the middlemen who buy their crops for a lower price. If previously their crops were sold at a low price, now the prices can rise significantly. With the increasing incomes, the members can support their children's school tuition even until they graduate from university.
Plea Puli also conducts arisan (social gathering) and establish credit unions to increase the member's incomes.
Every program of KSU Plea Puli, especially joint marketing program, has helped Bloro village's economic development. As long as coconut and candlenut trees still grow up in Bloro, there's a market and improved incomes for them to look forward to.

*Written by Rena Tanjung, Field Communications Officer, World Vision Indonesia