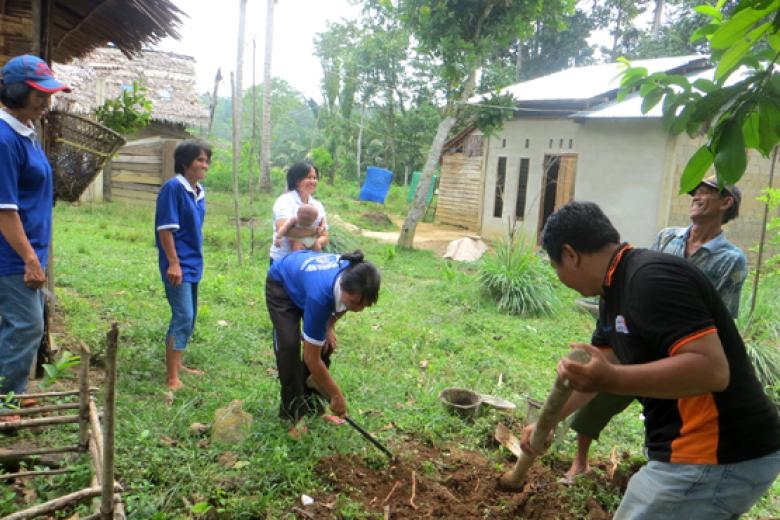 Kawan moves to be open defecation free
Friday, April 17, 2015
This story begins from care for others to live in a healthy and comfortable environment.
Kawan is Sungai Betung Sub District, Bengkayang District. In this sub-village stands 63 houses, inhabited by around 360 people. According to data from September 2014, of the 63 houses there are 44 houses that have toilets, while 19 houses do not have one.
It cannot be denied that changing the behavior of the entire community was not easy.
Community Based Total Sanitation especially the point of Stop Open Defecation was introduced to the Kawan community in 2012. At that time, it was common to defecate in the open. Some people used the river, while others used fallen trees or even plastic bags to contain their feces, then throwing the bag somewhere behind their house- also known as 'flying toilets'.
As many people showed unhealthy behaviors, the community needed counseling to help them become aware of the importance of living clean and healthy. Through routine monitoring, slowly but surely the Kawan people started to realise the importance to constructing toilets.
However, some challenges arose when Wahana Visi tried to build awareness. Some people thought that constructing toilet was only possible after a person was able to build good house.
It cannot be denied that changing the behavior of the entire community was not easy. Usually they need to see proof before they believe what we told.
Two sub-villages have been declared as open defecation free in Sungai Betung sub district, they are Riam Sub Village, in Cipta Karya Village and Sebawak Sub Village in Suka Bangun Village.
"Kawan must be declared open defecation free by December," says Ferry, a health promotion officer in Sungai Betung's Community Health Center who advocates for and monitors the  Kawan community.
The presence of two midwives and five Integrated Health Post cadres in the sub village help motivate people to construct toilets.
Every Friday, there is mutual cooperation to construct toilets. With the slogan "Together We Can" Sungai Betung Sub District aims to be open defecation free in 2015.
*Written by Robertus Jamal, Development Facilitator, Wahana Visi Indonesia at Singkawang operational office.