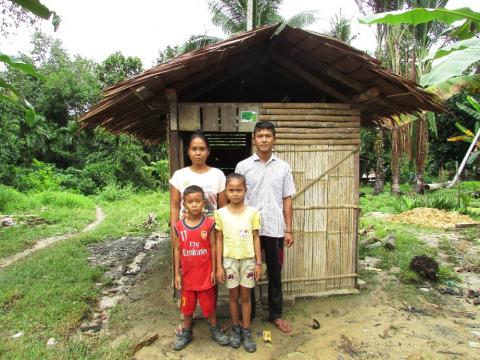 Living Healthy Amidst Limitations
Monday, May 21, 2018
Tapang Jaya is one of the sub-villages of Semabi Village in Sekadau District, West Kalimantan. This backwoods sub-village is the most remote one in Semabi. To get to Tapang Jaya, people have to walk on foot for 4 hours from the village center. The only way you can reach Tapang Jaya with a motorcycle is by taking a longer route through the neighboring district, Sanggau, for Tapang Jaya is located in the border of Sekadau and Sanggau.
The business and economic growth in Tapang Jaya are fairly affected due to this condition. Life has not been easy for the inhabitants of Tapang Jaya.
However, in the midst of these difficulties, the spirit of the community to implement the CBTS project remains optimistically high. The CBTS project was first introduced in the area in 2016.
Initially, of the 45 families who lived there, only 6 families had healthy latrines. Residents defecated in the woods or in the river. One person who plays a role in setting CBTS in motion is Anastasius (32).
"My son almost lost his life because of diarrhea. We had to walk for 4 hours to get medical treatment. Sometime before, there was a child who died because of diarrhea," said Anastasius to describe what motivate the people of Tapang Jaya to start building healthy toilets.
After the triggering session from WVI, Tapang Jaya community began the work to build toilets for their families. They formed the CBTS working groups. Each working group is responsible for digging a septic tank in every member's house that does not have a toilet.
Residents of Tapang Jaya utilizing toilet mold given by Wahana Visi Indonesia (WVI), started molding cheap water closets. One closet is priced Rp25.000,00 or around 2 US Dollars. This is a big help for the community given their difficult financial conditions. The CBTS working groups also raised money to buy some cement sacks to cover the base of the toilet floor. They used local materials for roofing and walls.
The hard work of Tapang Jaya citizens eventually yielded encouraging results. SP 3 Trans Community Health Center has officially verified that now each one of the families has a healthy latrine. 45 households have not defecated in open space anymore.
"Although it may seem a simple thing, now I no longer need to worry that my daughter or family get peeped at by others while relieving themselves. With the latrine, I feel safe and comfortable," said Anastasius.
This is also corroborated by Sepa (11), the eldest son of Anastasius.
"We used to run to the woods or to the bushes to defecate. In fact, we had to sit side by side with others while defecating. Now after our parents built a toilet, all the activities like bathing and defecating we do in a toilet within bathroom walls," said him.
The efforts of Anastasius and the people of Tapang Jaya deserve thumbs up. Despite being the most remote sub-village, Tapang Jaya is able to become the second sub-village in Semabi village verified as an ODF area.
 "It is everyone's desire to have a toilet. We are the ones who benefit from this toilet. This is also for the sake of Tapang Jaya children's lives. In the midst of all the limitations, we do not give up for a healthier life," Anastasius said. 
Written by: Lindung and Stanny, Wahana Visi Indonesia - Area Program: Sekadau, West Kalimantan