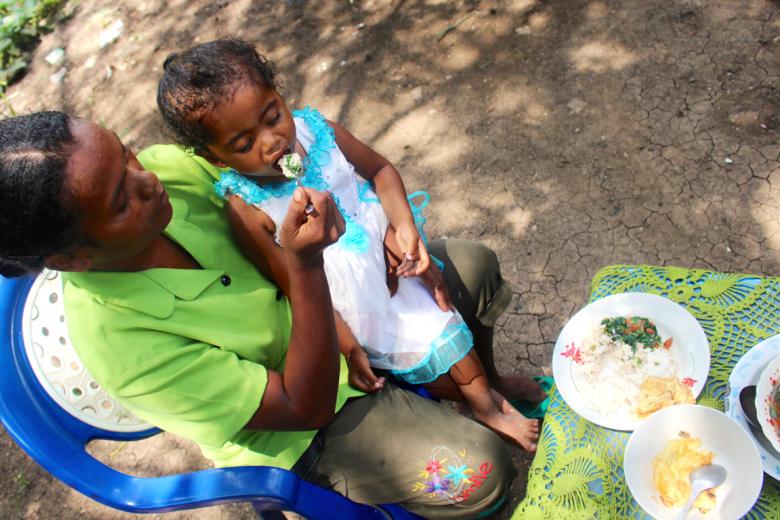 Nutrition garden brings hope for Rani
Monday, June 29, 2015
Two years ago, when Little Rani was almost two-years-old, she got sick easily and was underweight at just 18 lbs. The youngest of two, she only ate plain porridge of rice and water with a pinch of salt. Rani ate it three times every day.
Kristina, 28, Rani's mother thought healthy food was too expensive because they would have to purchase vegetables at the market. Rani's father, Lodoficus, 38, is a corn farmer who depends on a good harvest from seasonal crops. If there is no crop, there is not enough money for the family.
In 2013, 19.6 per cent of Indonesian children suffered from malnutrition and in East Nusa Tenggara province, children suffered the worst.
"In this village, a bundle of vegetables or meat costs too much. We cannot buy it everyday," Lodoficus said.
Lodoficus's family lives in South Oenenu, a remote village in North Central Timor, Indonesia. Surrounded by hills and rivers, it was very difficult to reach the village. There is no main road. When rain came for days, the village would be isolated because the river water level would rise, preventing villagers from going anywhere.
Rani was just one of the East Nusa Tenggara children who suffered from malnutrition.
In 2013, 19.6 per cent of Indonesian children suffered from malnutrition and in East Nusa Tenggara province, children suffered the worst.
The geographical condition and dry weather are the main reasons why nutritional foods are still difficult to access.
In 2013, World Vision began assisting the village where Rani and her family live.
Children under-five and their families came to sessions called Positive Deviance (PD) Hearth, a programme that helps children facing malnutrition. Villagers are introduced to simple and easy ways to prepare nutritious food.
World Vision staff identified 10 children in South Oenenu as malnourished, including Rani.
To start, the children received vitamins for ten days in Posyandu- Indonesia's Integrated Health Post. Rani's parents received training to make nutritious food with simple ingredients found in the surrounding area. Everything was cheap and readily available.
Little Rani seemed to enjoy vegetables and simple dishes including eggs, which she never had in her meals before. Within ten days, Rani's weight started to increase, bit by bit.
Both Kristina and Lodoficus were so encouraged that they committed to increase their efforts so that their daughter's weight would continue to improve. Rani routinely visited the Posyandu so the health staff could check her health and give her vitamins.
Meanwhile, the parents participating in PD Hearth were introduced on how to plant their own vegetables. Using a specific farming technique called double digging, the barren land has successfully converted into simple, productive gardens.
"With double digging, my husband and I started to cultivate our empty land that previously was dry and barren so we can plant water spinach, mustard, onion, and long-bean in it," said Kristina.
Now, Kristina's yard has turned green. She has many vegetables available for her family. She cooks nutritious food for her children every day. With the changes in her diet, Rani now weighs 25 lbs at 4-year-old. She is no longer underweight!
Feeding her children with a nutritious menu isn't expensive anymore because Kristina can pick the vegetables directly from her yard. She added to the menu of fried eggs, to include tempeh –a low-cost traditional food made of soybeans- to fulfil Rani's daily nutrition requirements.
The mother of two admits that her daughter loves the new menu so much. Little Rani said to her that any vegetables her mother cooked tastes better.
"World Vision and the health staff have taught me the right way to cook for Rani. It is very cheap, easy, and fast. It's also delicious. She won't eat if there are no vegetables in the meal! I'm glad that she's now getting healthier," said Kristina excitedly.
Not only for Rani, but the nutritious gardens have impacted many villagers. Vegetables are easily found in every yard, of every home in South Oenenu.
So far in 2015, there are no longer any malnourished children in South Oenenu.
Story and photos by Rena Tanjung, Communications, World Vision Indonesia