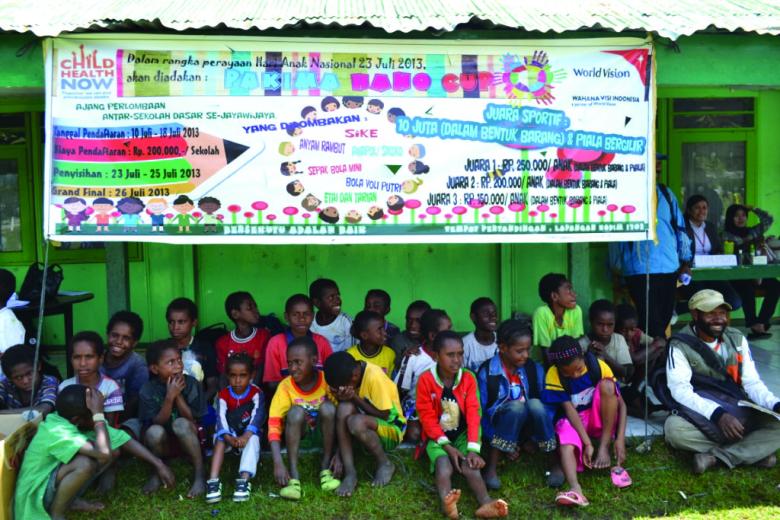 Pakima Hano
Thursday, December 19, 2013
The right fingertips of Natalis, an elementary school student in Wamena, held a dart. In his left hand, he grasped a traditional bow. 
His eyes stared sharply at the shooting target. While holding his breath, his fingers pulled the rope of the bow in his left hand. The arrow shot and hit the target! Suddenly, the cheers of hundreds of spectators were reverberating through the room. 
"The arrow hit the target in the cycle of ignorance," the jury said by the loudspeaker. The target board was not the normal kind of board, but it symbolizes the fundamental issues that exist among them, namely: laziness, ignorance and poverty. The three words were written on the target board.
Natalis was one of the contestants in the traditional archery contest of the Dhani tribe, called Sikke. 
This competition was one of the events of the National Children's Day event held in July 2013, at the Military District Command field in Wamena, Jayawijaya. 
This event was held under the theme of "Pakima Hano" (Dhani language) meaning "Allied is Good".
Hundreds of children eagerly took part in a number of games including: soccer for boys, volleyball for girls, sikke, awapul (where you insert a spear into a rattan circle), plus a hair grooming competition and dance competition.
This event was part of the character building project- loving each other and prioritizing good sportsmanship. 
The Chairman of the Committee, Joko Prasetyo, said that all the participants had been given a briefing that the essence of this competition was not just a championship, but appreciating the value of sportsmanship.
The high score was given to the team that showed the highest character: did not hit others, spoke politely, kept clean, etc.
From June to July 2013, there have been tribal wars five times in the Central Highlands. 
The celebration of National Children Day this time deliberately incorporates Sikke game in order to instill new values for the students. 
Although Natalis ranked second in the competition, he had the opportunity to be the champion by including his 'character' scoring.
* by John Eris Purba, Jayawijaya Cluster Operations Office | Translated by Lukas Ginting