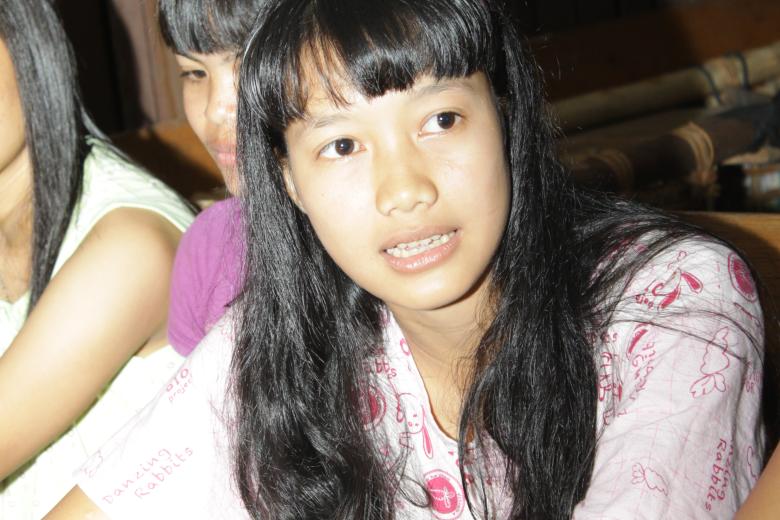 Patricia, Little Hero from A Remote Place
Tuesday, November 6, 2012
By Bartolomeus Marsudiharjo, World Vision Indonesia communicator 
Patria Suherni (17) is a real hero not only for her family but also for her village in the subdistrict of Tayan, Sanggau district, West Kalimantan province. 
When several children of her age in her village stopped their education only after finishing elementary school, Patricia continued her education to junior high school. She had to walk around 45 minutes to reach the school in the different village. 
When she passed junior high school, more children from her village gave up getting higher education. She determined to continue to study in senior high school although she had to pay 'more expensive". 
As the distance from her village to the senior high school is around 18 kilometers, she has to leave her family and stay in World Vision's boarding house. Although the facility of the boarding house is very simple, she is very grateful to be allowed to stay there.
Patricia, who is now at her third grade of senior high school, keeps continuing her education because she dreams to be a doctor in the future.
"There is no doctor in my village, so people need to spend extra money for the transportation to visit a doctor in the subdistrict," she says.
And she has another reason—this one more personal.
"My grandfather suddenly got sick, and after three days he passed away because of the lack of medical support," she adds.
She knows it is not easy to reach her dream. To make it comes true, she always studies hard. For the hard work, Patrisia has been in the top position in class since she was an elementary student.
Last year, Patrisia and some children from Sanggau district were appointed to represent other sponsored children to join World Vision's National Young Leader Forum in Jakarta. This is a biannual activity to appreciate active and smart sponsored children. Only 200 out of 90,000 sponsored children were selected.
"We got a chance to meet Minister of Social Affairs," says Patrisia, who asked the minister to help people in her village to get the benefit of electricity. 
Patrisia is the first child of couple Benu, 47, and Fatimah, 37. Patrisia has a brother, Septianus Karno (9), and a sister, Petronela Angela (8). Septianus is a fourth grader student of elementary school while Petronela is at her second grade.