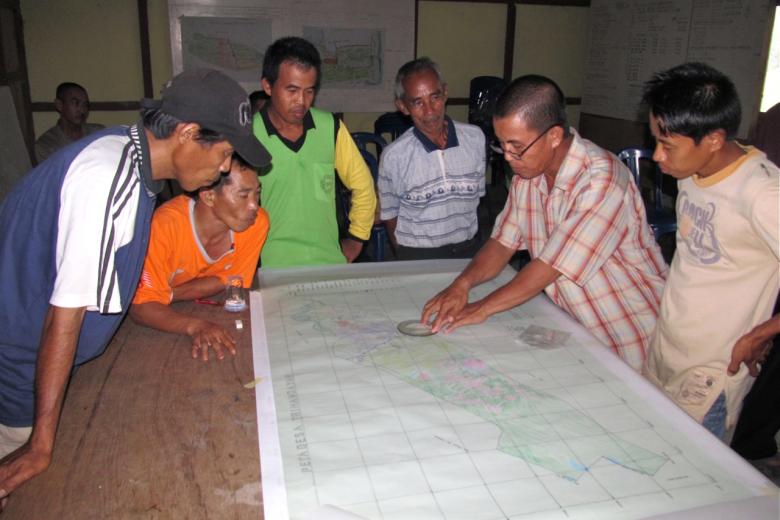 The Power of Community in Disaster Risk Reduction
Tuesday, July 22, 2014
By Rosalia Widyaningrum, Natural Resources Management Officer, Wahana Visi Indonesia

Indonesia's unique geographic character, environmental degradation, and climate change is increasing the community's vulnerability to natural and human-made disasters. But how can we prepare if we are not aware of the possible threats around us?

Disaster risk reduction is the concept and practice of reducing disaster risks through systematic efforts to analyse and reduce the causal factors of disasters. Reducing exposure to hazards, lessening vulnerability of people and property, wise management of land and the environment, and improving preparedness and early warning for adverse events are all examples of disaster risk reduction. (UNISDR)

Communities in Sambas, West Kalimantan, have successfully showed us how to prepare. Facilitated by Wahana Visi Indonesia, a partner of World Vision, they work together in implementing the Community-Owned Vulnerability and Capacity Assessment (COVACA) project as the first step to address this issue.
   
Sambas sits along the border of Malaysia. The main income sources in the area rely on rubber tapping and rice farming.

Any threats toward their environment threaten their livelihoods, but their livelihoods are becoming more vulnerable today because most of the arable lands are facing massive deforestation threats– mostly by monoculture palm oil plantations.

Lack of clarity on land ownership in some villages and difficulties to obtain land right certificates have increased potential conflict among the neighboring villages over land rights claim and with the palm oil companies.

The COVACA project is the first step to take action to reduce a community's vulnerability and sustain their livelihoods. This method aims at helping a community to identify possible threats or potential disasters through information gathering and assessment.

To address the Sambas community land tenure issues, the community has taken specific action through Participatory Mapping.  This process helped the community determine their village boundaries through a negotiation process with an adjacent village.

Community members were trained to use to GPS to acquire coordinate points and draw the map, while head of villages and local government at sub-district level negotiated borderlines with neighboring villages. The map created from this process was used to make an evacuation plan in their Community Disaster Preparedness Plan

The key success of the COVACA project is that the assessment is undertaken and facilitated solely by the community. They have identified and analyzed their local seasons and food production pattern, tracked their village development history and identified their vulnerabilities.

Local context in each village is different from the other – based on their own view and needs.

"Since we've mapped our village, our neighboring village members no longer carelessly burn the bush around village border because now they know that the area is still ours", said Pardi, 48, one of the community members in Trimandayan village.