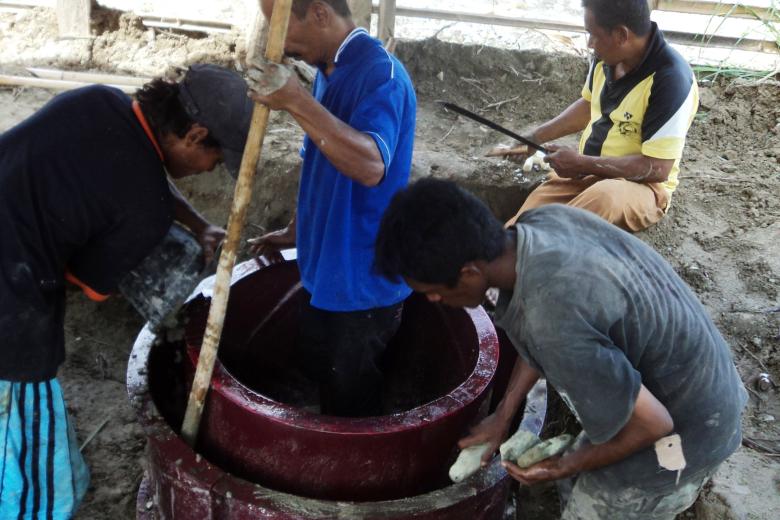 Press release: Launching of STBM appropriate technology competition for urban area
Friday, August 2, 2013
Jakarta, July 30 2013 – Clock is ticking and we are rapidly approaching the deadline of the 2015 Millenium Development Goals. Nugroho Tri Utomo, Director of Housing and Settlement of Bappenas, which is also the head of National Pokja AMPL, calls all stake holders to work together to accelerate MDGs' achievement, particularly 7c target: improved access to safe drinking water and basic sanitation.
To speed up the achievement of MDGs, High Five, supported by USAID, in collaboration with Pokja AMPL, STBM secretariat, IUWASH, World Vision Indonesia, and Pundi Amal SCTV holds "STBM appropriate technology competition for urban area". Nugroho emphasized the importance of this competition in providing alternative technologies for sanitation access and hygiene practices improvement in urban areas: "This competition is crucial to explore appropriate sanitation technology options to answer STBM implementation challenges in the urban areas. It will enrich the current sanitation technology catalogue with affordable technology options. Thus, there will be bigger opportunities for more people to have improved sanitation access".
Ewinur Machdar, Water & sanitation specialist of High Five, added, "The idea of this competition is based on the fact that households in densely populated areas have limited options of sanitation technology that are suitable with their needs. On the other hands, we found community innovations that are remained unpublished, or great academic research that stays in the laboratory without any field trials. Those are the things that could respond to people's needs."
Sanitation and hygiene practices improvement is still needed in urban areas. Data shows that 19.7% of households have no access to quality drinking water   and 26.7% of them don't practice safe drinking water treatment  . For defecation habit, 28.6 % of the households have no appropriate  sanitation facilities and 7.5% still practice open defecation. In regards to domestic waste water (grey water) management, only 26% of the households managed their waste water safely . Slightly higher than half (53.4%) of the urban households do not manage  their solid waste (Riset Kesehatan Dasar/ RISKESDAS 2010).
As we might have known, the effort to improve sanitation and hygiene practices has been going on for years. Shifting from sanitation facility construction focused, the Government of Indonesia, through Ministry of Health, launched decree no. 852/2008 regarding STBM (Sanitasi Total Berbasis Masyarakat/ Community Based Total Sanitation) national strategy, which includes behavior improvement on five integrated pillars: (i) open defecation free (ii) hand washing with soap (iii) safe drinking water and food handling (iv) solid waste management (v) domestic waste water management.
Wilfried Purba, Director of Environmental Health of Ministry of Health, stated about three components to ensure sustainability of improved sanitation and hygiene practices: generating demand, technological supply and enabling environment. "Appropriate STBM technology competition is one of the strategies to enrich the options and hence it will support the supply component to meet the target. It is important because when the poor are triggered, sanitation access provision often becomes their constraints, dues to limited options that suitable with their conditions."
On the other hand, USAID explained, "We notice that the community is actually capable to develop applicable technology as their needs. Triggered people seek more information to support their improved behavior, and they successfully develop and operate simple sanitation technology, such as grey water treatment to irrigate fish ponds in Kelurahan Petemon, Surabaya".
"Appropriate technology competition also serves to channel creativity and passion to provide access to appropriate and affordable technological options. This competition is also an opportunity to promote STBM to the wider audience," added Charles Sinaga, Operational Manager of Wahana Visi Indonesia Regional Java and Sumatera.
This competition is an opportunity to engage public and private sectors in sanitation and hygiene improvement effort. As an institution involved in sanitation access improvement at the community level, Pundi Amal SCTV has been aware about problems in appropriate STBM technology provision. They are engaged as the main corporate partner. SCTV's commissioner, Letjen (Purn) Suyono said, "Through this event, Pundi Amal hands their audiences' mandate to the people in needs."
We receive support from Business Innovation Center (BIC) in web development and Yayasan Inovasi Teknologi (Inotek), which gives opportunity to the finalists for business incubations to support sanitation market. Professional associations such as HAKLI (Himpunan Ahli Kesehatan Lingkungan Indonesia) and IATPI (Ikatan Ahli Teknik Penyehatan Indonesia) are also engaged.
This competition starts today, with proposal submission through website, continues with finalists' selection and field implementation in community. The winner will be awarded in March 2014 in World Water Day celebration. For more information please visit http://www.sanitasitotal.com .
Contact:
Ewinur Machdar
High Five - CCPI
Email: e.chairati@ccp-indonesia.org
Telp +62 21 7262916 ext 118  Fax: + 62 21 727 96779