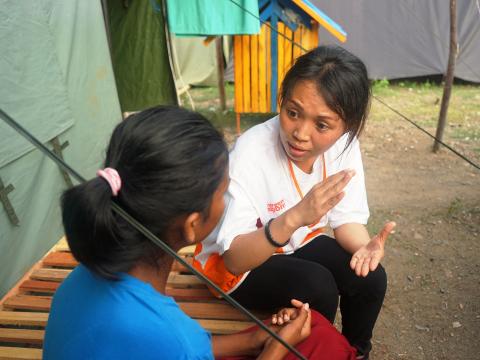 Psychosocial Support Through Child Friendly Space
Thursday, December 20, 2018
In the afternoon before 6 p.m, Rosna and her 3-year-old sister were watching television in her living room. She stayed with her young sister and mother. Her father was still working and had not returned home, while her three brothers were still playing outside. Rosna is the second child of five siblings.
Suddenly, when she enjoyed watching television, her house shook violently. She grabbed her sister to run out. But because of the large shock at that time, Rosna and her sister were held in the house. All of her furniture fell and sounded like a roar.
"Mom... there's an earthquake!" Rosna called out to her mother.
Her mother who was in the kitchen tried to get close to Rosna and her sister. But suddenly all of the brick walls collapsed on their bodies. Her sister cried in pain from the brick wreckage.
Her mother, who was also crushed by the rubble, could still move and help her children get out of their house. Around their homes, the neighbors scattered out of the house. Some houses were destroyed because of the earthquake that just happened.
"My sister and I were injured in the rubble. But we were still fine," Rosna said in memory of the events of September 28, 2018.
Since that time Rosna always felt frightened whenever there were aftershocks even on a small scale. Until now, Rosna and her family live in an evacuation post located not far from her house with other community. Rosna's house is now unoccupied because most of the walls and roof collapsed.
Juanda, volunteers who helped accompany the children in Rosna's village often noticed that Rosna looked different from the other children. She is often moody and not as cheerful as other kids. Until finally through the Child-Friendly Space, Juanda invited the children to be able to share their experiences and what the children felt after participating in the Child-Friendly Space.
Juanda had previously received psychosocial handling training organized by Wahana Visi Indonesia together with the Indonesian Communion of Churches (PGI). The three-day training explained the psychosocial basics, child handling techniques, and direct handling practices for children.
"After I participated in psychosocial training, I had the provision and new knowledge about how to deal with children who need psychosocial support," said Juanda Roring, the staff at the Child-Friendly Space.
Rosna said that she initially was reluctant to tell her stories. But CFS provides a place to share and there is people who want to listen by giving her motivation. Now she feels better gradual. She felt that she was not alone, and there were people who always supported and accompanied her.
Psychosocial support is one of the activities in the Child-Friendly Space that needs to be given to children affected by disasters. Psychosocial is one form of humanitarian assistance to eliminate the vulnerability experienced by children after a disaster occurs. Wahana Visi Indonesia has opened a Child-Friendly Space at 28 points in 24 Villages through positive and educational activities to restore the cheerful of children who live in evacuation posts. More than 4,901 children are involved in activities in the Child-Friendly Space which are held regularly every day.
Written by: Melya Findi Astuti, Communication Officer Central Sulawesi Earthquake, and Tsunami Emergency Response Wahana Visi Indonesia