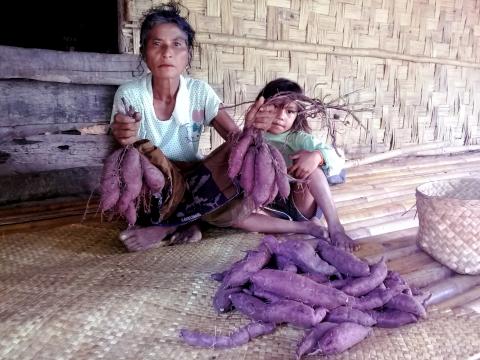 Purple Sweet Potatoes Yielded Many Tubers
Thursday, November 22, 2018
Her house is at one intersection in Mbatapuhu Village. Although the heat blows from Savannah, the atmosphere around the house feels cool and fresh. The leaves in the tree like uniting to shade so the sun does not immediately come into the house.
A mother immediately prepares the mat in front of her house. She is welcoming us. Her brown hair shows us her age. She is Bangu Kahi, (63 yo) who also known as Mama Kahi.
Accompanied by her grandchildren who stayed at her house, Mama Kahi told of her first experience of planting purple sweet potatoes.
"In the last April, I planted 10 trees on 15 acres of land. Only five survived and could be harvested. While the rest is eaten by the pigs," she remembered the process.
She claimed to be amazed by the results of the purple sweet potatoes she had planted. If she compared hers with the common sweet potatoes she used to plant, the crop results of the purple were more and the tubers were bigger.
"Some instructions are given for growing this sweet potato. But I don't follow everything," she said with a smile.
One of the good treatment methods she applied was to make holes and put manure in the form of goat manure into the planting hole. Meanwhile, the making of a stick so that the purple yam plant can propagate, she did not do it. She afraid it will limit the tubers to grow.
"A purple clump can produce around seven until nine tubers. I sold only small ones, the big ones are eaten and made into porridge, "she said. Mama Kahi also processed purple sweet potatoes leaves into vegetables delicious to eat.
"The leaves are also good for feeding animals, but for now I am not giving it because there are not so much purple sweet potatoes I planted," she explained.
Mama Kahi sells every 6 bulbs of sweet potatoes for IDR 5.000 in a traditional market. For the five clumps harvested, she got IDR 150.000. She used the money to buy soap and various kitchen necessities.
She plans to continue planting more purple sweet potatoes. Yet, because it's still summer, she saves the seeds is in a special place. She planted the purple sweet potatoes seedlings around the spring so that if the rainy season arrived, she could immediately move it to the planting area.
Mama Kahi was also interested in making demonstration gardens in her garden. So, later there will be clumps she treats as taught by self-help extension, for example by giving a stake to the plants. While the rest will be planted and cared for as she knows before. Thus, she can see the difference in her crop yield. 


Written by: Uliyasi Simanjuntak, Staff of Wahana Visi Indonesia Area Program East Sumba