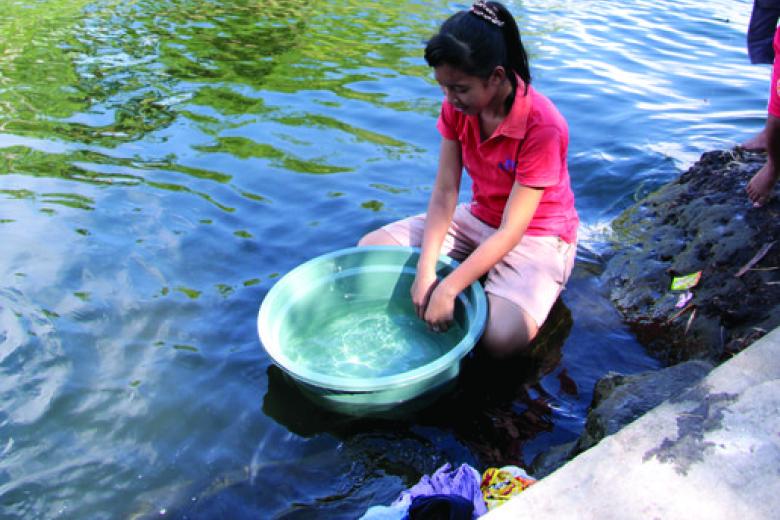 Pursuing Dream to Develop Village
Tuesday, January 7, 2014
There is a light breeze, the sea is calm, and occasionally boisterous laughter of children and teenagers rings out. They are having fun swimming. Splash! They drop themselves from the tree into the water for fun. Teenagers quietly wait for the fish to strike their baited fishing hooks. This is a common scene here, called Cape Van Dijken in West Galela, North Maluku Province, Indonesia.
Rimayun (also called Yuyun) 13, lives here and is a sponsored child, part of the Wahana Visi Indonesia program in North Halmahera. 
She helps her mother with household chores like cleaning and doing laundry. She also helps with harvesting rice, sweet potatoes, and nutmeg. The distance from her home to their farm is also quite far, but she this work to help her family.
Yuyun is a good student and sits in the first ranking of her class, the second grade of a private junior high school not far from her home. Yuyun has even helped teach children at the primary school.
What does she teach? She teaches healthy living practices such as how to wash your hands and brush your teeth. She is one of the peer educators assisted by Wahana Visi Indonesia.
She and her fellow peer educators have traveled to about eight schools in the villages to promote a clean and healthy living practices. From her village there are five teenage peer educators, including Yuyun.
"I am very pleased to be a teacher. I am also very pleased because from so many children from this village, I was selected as one of the facilitators," she said.
Her good public speakings skills made her a representative at the National Young Leaders Forum (FPMN) in June 2013 from the region of Central Sulawesi and North Maluku. At the opening ceremony, with self-confidence Yuyun stepped forward on stage wearing the traditional dress of North Halmahera.
Yuyun says that poverty is one of the challenges in her village. Often she is late in paying her school tuition, but that has not stopped her from seeking to achieve her goals. Yuyun says that she wants to be a physician. After pursuing her education, Yuyun wants to return to her village.
"There are only a few physicians in this area. If somebody is sick, it is very hard to find a physician here. You must go to other village for treatment."
*(by Juliarti Sianturi | Translated by Lukas Ginting)