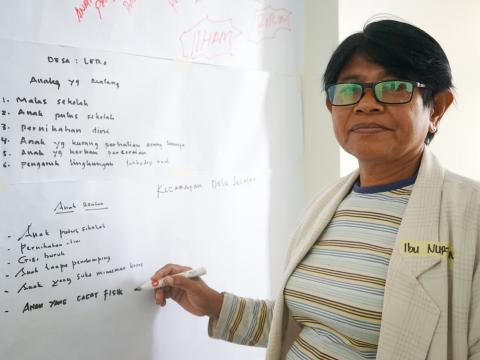 Reducing Violence Case against Children through Community Engagement
Tuesday, January 22, 2019
Nurtin (47 yo) appeared to share a clap way she created to the training participants. Today she and 17 other participants are taking part in a two-day training program for child protection cadres. The Poskampling clap while she named it that she shared invited participants to laugh because it was funny and unique.
"Yes, I usually teach the children when doing activities with them," Nurtin said happily.
Nurtin, who also works as an integrated health post (Posyandu) cadre, had previously attended a psychosocial training where she received provisions regarding methods for handling children who were psychologically affected. This then motivated Nurtin to make creative and interesting techniques for interacting with children.
Wahana Visi Indonesia held a community-based child protection training for a number of cadres in the assisted area of the disaster response program spread in Palu City, Sigi Regency, and Donggala Regency. In this training, participants were given provisions to identify the types of violence to children, recognize what are the principles and rights of children, and also identify cases and handling processes. To recognize children's rights is not necessarily taught through verbal exposure through the screen. But participants were invited to sing while moving so that it was easy to learn 4 children's rights.
Nurtin is currently actively accompanying activities in the Child Friendly Spaces in her village. She applies what she has learned, starts making creative games and creates interesting movements for children. Not only doing activities, Nurtin, who was involved in youth development groups and family development under five years old, once had the experience of accompanied a child who was addicted to smelling glue.
"This child is complaining because he was not given pocket money by his parents, so he rebelled. At that time I gave him an understanding that this could damage the future and himself, as well as the approach to parents," explained Nurtin.
Through this training, Nurtin and other participants learned about Community Based Integrated Child Protection (PATBM)
by the Sigi Regency of
Women's Empowerment and Child Protection (DP3A).
Community Based Integrated Child Protection
is a child protection movement managed by a group of people living in an area. Through this program, the community
is expected to be able to recognize, examine, and take initiatives to prevent and solve problems
of violence against children in their own environment.


"In post-disaster emergencies, children are more at risk of experiencing violence.
Therefore it is necessary to increase the capacity of community representatives regarding
the rights and protection of children to prevent violence against children in disaster situations.
The importance of PATBM is to improve protection by involving all elements of society
in creating a child-friendly and non-violent environment," explained An Franklin, Case Management Coordinator.
of Central Sulawesi Earthquake and Tsunami Emergency Response (CENTRE) Wahana Visi Indonesia .
After the earthquake and tsunami that hit Central Sulawesi, a number of reported cases of violence against children emerged which showed that families, the surrounding environment, schools and communities have not been able to provide adequate protection to children. This training is important in capacitating cadres to become observers of children in their area they lived..
Written by: Melya Findi Astuti, Communication Officer of CENTRE Wahana Visi Indonesia