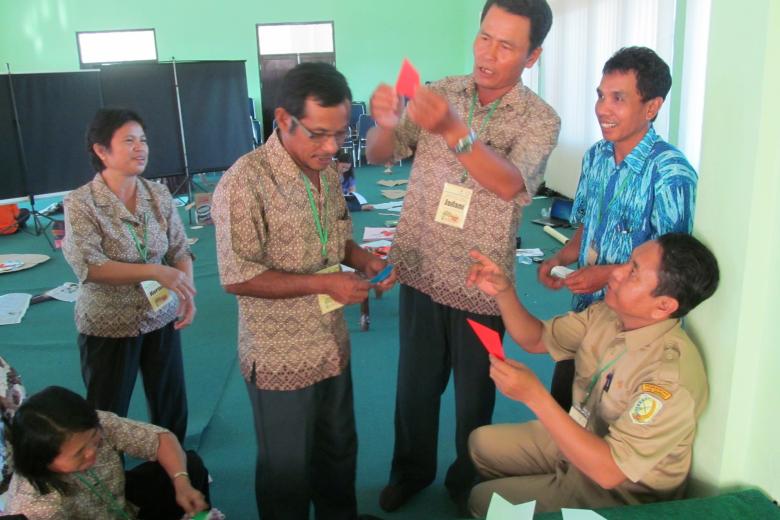 Sharing Change with Other Schools
Friday, May 2, 2014
The Green School program initiated at the three primary schools in the Sajingan Besar area in Sambas regency in West Kalimantan province has completed its first cycle.
Wahana Visi Indonesia and its local partners have also established a team to share the program to other schools. The team, consisting of trained teachers and principals, is now ready to inspire educators in other schools who are interested in adopting the Green School program.
If we can achieve something better, good is not enough
With the support various education offices, the team facilitated first the Sambas Green School Model Replication meeting in Teluk Keramat sub-district on December 2013.
The team brought two facilitators from the Sasak Primary Public School 07 to share their experiences in implementing the Green School model. Mr Jailani, a school teacher at Sasak school, spoke about the transformation that has been taking place among the teachers, students and even the students' parents following the implementation of the Green School Program.
"If we can achieve something better, good is not enough," he enthusiastically said. "If we want to witness our schools transforming into much better schools, let's start within ourselves."
He challenged the teachers and principals attending the meeting to question themselves; about whether they indeed wanted to witness real change in their schools and whether they themselves are also ready to facilitate the process of change.
"In Sasak, we are indeed grateful that we have embraced the change and have started benefiting from it," he said.
He even shares that the transformation process has inspired him to encourage his children to adopt a more positive character and life values and also to be more independent. He urges his children to always do their best for their future.
* Written by Simon Sinambela, Education Coordinator, Wahana Visi Indonesia Operational Office in Sambas | Edited and Translated by Hendro Suwito, Senior Editor, World Vision Indonesia