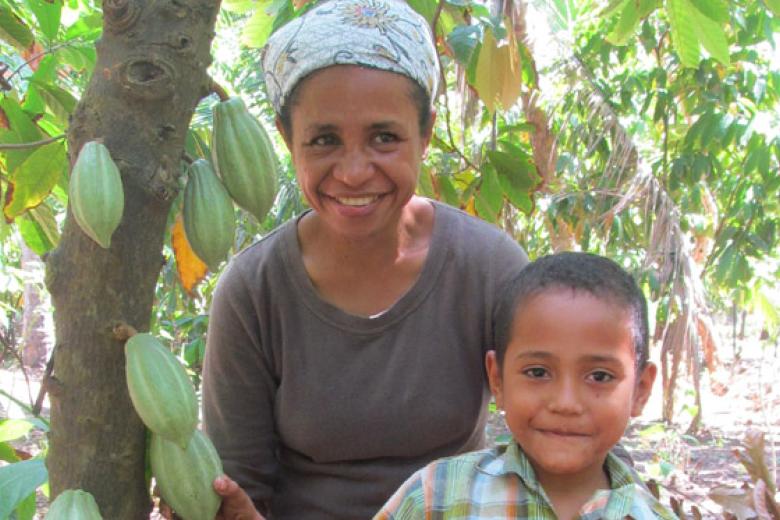 Siti- Story of an inspiring woman from Sikka
Friday, April 10, 2015
'Pire' is a local term from Sikka, East Nusa Tenggare referring to an 'eating ban' for pregnant women. The women sometimes are forbidden to eat 'katuk' leaves, chicken meat, eggs, and fish, though these food are actually very nutritious food for their health.
Siti Joleha is a woman from West Papua that has settled down in Sikka for 20 years. She is also a Head of Village's wife. She almost lost her son, Edwin since he was an underweight baby when he was born. However, Siti gave him exclusive breastmilk that helped his weight  increase. Since then, Siti participates at the Integrated Health Post (Posyandu). She works to educate pregnant women in her community about nutritious food so they will not only focus on 'pire'.
"As women, sometimes we are considered weaker than men. The lack of education and information about health motivates me to educate them," she said.
With the assistance of Wahana Visi Indonesia (WVI), a partner of World Vision, Siti learned the importance of having a nutritious garden for her family. She planted vegetable seeds like eggplants, tomato, bitter melon, water spinach, mustard, spinach, and long beans in her garden. Slowly, her neighbors start to pay attention to what she does. Siti then shares her own vegetable seeds and teaches how to plant it.
As a cadre, Siti helps measure the weight of babies and organizes additional food for malnourished mother and baby programs. In three months, Siti's efforts are brining significant result for people in her village and malnutrition is declining.
Siti also became a facilitator of a field school in planting cocoa. For all her efforts, Siti is a true example that women can bring positive impact for their family and environment in Sikka. Let's give a chance and encourage women to take a role in making decision so that the results will be awe-inspiring like Siti.
*Written by Herning Tyas Ekaristi, Child Sponsorship Management Program Coordinator, Wahana Visi Indonesia at Sikka operational office