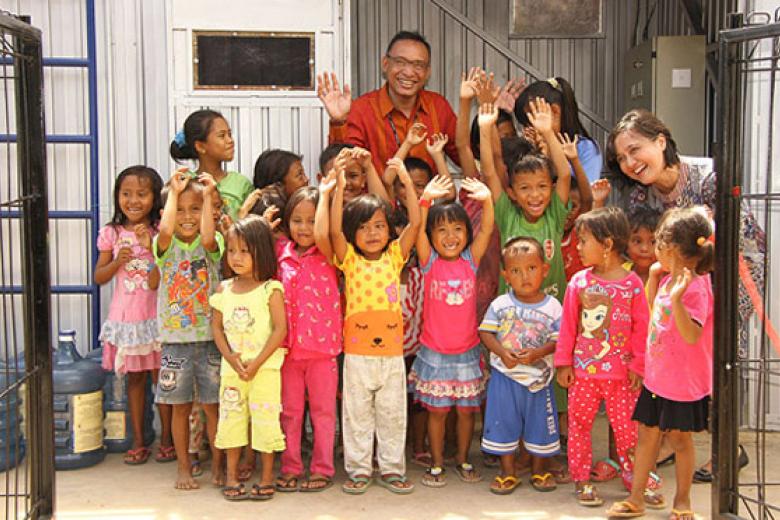 Solution to clean water problem for Balane people
Friday, June 12, 2015
One of the environmental problems in Balane village is difficulty to finding clean water-  triggering problems with health and sanitation. At only 3.24 km square, Balane village is the smallest in Kinovaro Sub District, Sigi District, Central Sulawesi Province. Balane is also the furthest village from the capital of the sub district, Kalora- about 16 km between them.
Previously, people in the village has to go up and down hill for about 1 kilometer to find clean water because there is no source of clean water in the village. The habit of defecating in the river, further decreased the water quality in Balane and other villages in Kinovaro Sub District.
As an effort to solve the problem, Wahana Visi Indonesia works with PT. Yamaha Group to involve 19 other Japanese companies to install water purification machines. This Yamaha Clean Water Program in Balane is the second cooperation between Wahana Visi and Yamaha, after previously running the same project in Pontianak, West Kalimanatan. 
The presence of the water purification machine is very useful in providing clean water for 300 families or around 1,100 people. People in Kinovaro sub district have established a water committee that consists of 10 people. With the support from Yamaha and supervision from Wahana Visi and local government officers, the water committee is expected to be able to actively build people awareness on the importance of sanitation. The launching of the water project was held in January 2015 and attended by Head of Sigi District, Ir. H. Aswadin Randalemba, M.Si.
"With the intensive supervision and the commitment of all stakeholders, we hope that we can lower the number of child death. Besides, children don't need to sacrifice their learning time to get water for the daily needs," says Sabtarina Dwi Febriyanti, Manager of Wahana Visi Indonesia's Sigi Operational Office.
Yamaha Clean Water Supply System:
- An environmentally friendly water purification machine which uses a slow sand filtration method and uses no coagulant chemicals or filters
- Able to purify water sources from rivers, lakes, or ponds
- Production capacity is 8,000 liters per day
- Simple construction and easy maintenance that is suitable for the usage at village, Community Health Center (Puskesmas) and school
*Written by Mardea Mumpuni, Marketing Communications officer, World Vision Indonesia