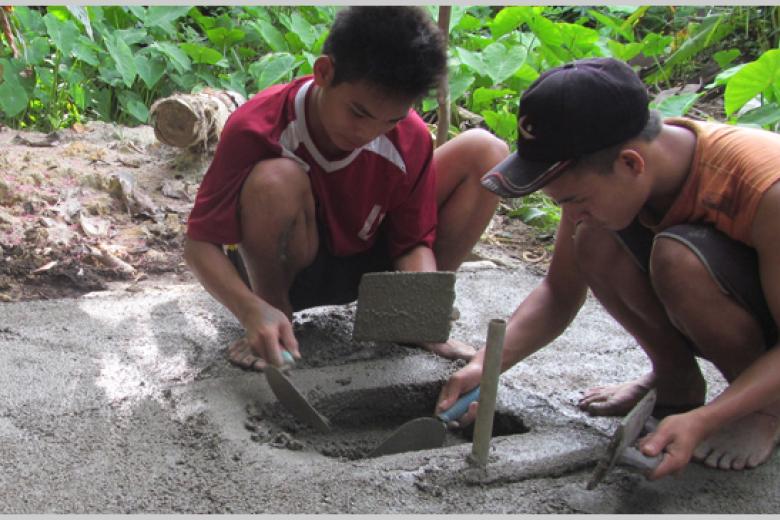 Staff Blog: Advocating for a Healthier Lifestyle
Wednesday, April 23, 2014
On my trips to scores of cities and villages across Indonesia, I discovered many interesting habits related to defecating. In some villages, many people -- male and female -- still prefer to defecate at the riverbanks or in the bushes.
When we asked why they did not build a toilet at their homes, most had the same answer: building a toilet costs a lot of money. But, actually, building a toilet is cheaper than buying motorcycles or even mobile phones, which many communitry members have!
After discovering similar situations in other areas, I found out that the real problem was related to distorted priorities. Motorcycles and mobile phones were considered to be more important than toilets.
Even in big cities like Jakarta and Surabaya, some mothers preferred their children to defecate in the clogged water drainages in front of their houses, rather than sending them to the public latrines
I was fortunate, therefore, to meet many of the field officers of World Vision and its partner Wahana Visi Indonesia who have been instrumental in advocating Total Sanitation and the Community-Based Water Management Program.
They have strived tirelessly to encourage the community to adopt a healthier lifestyle, particularly in constructing toilets at their houses. 
They have done advocacy campaigns throughout Indonesia. Many cadres made door-to-door visits to educate the community about the importance of having healthy toilets at their houses and to support clean water management in their areas.
I recently met Ms. Rosa in North Semper, North Jakarta, who proudly shared that open defecation is being replaced by permanent public latrines. The community had also installed clean running water in many village where everyone can wash their hands.  
Many children groups participated in monitoring and advocating for the construction and usage of toilets right at their houses. Through last June, around 1000 healthy toilets have been built at their houses. Praise the Lord! 
The local media reported on the successful advocacy achievements of the field offices in Sekadau, where many households are building latrines with their own money. This report has encouraged the Health Office in Sekadau to allocate funding for toilet construction in 14 other villages and asked for support from Wahana Visi in training their officers.
The Bengkayang district chief even visited the ODF (Open Defecation Free) declaration at the Kawan hamlet facilitated by Wahana Visi. Initially, only five families had toilets at home. But, just within a year, all the 63 families at the hamlet have had their own toilets. The district head has instructed the sub-district heads to advocate in 10 other villages to adopt ODF. 
We will continue to strive to nurture lifestyle and health awareness through our field programs. We want the community to be more aware that their houses are not just a means of exhibition, but the places to give protection, dignity and healtier environment for all their family members.
*Translated and edited from the article written by Margarettha C. Siregar,  Evaluation & Learning Coordinator Wahana Visi Indonesia  | Edited and Translated by Hendro Suwito, Senior Editor World Vision Indonesia