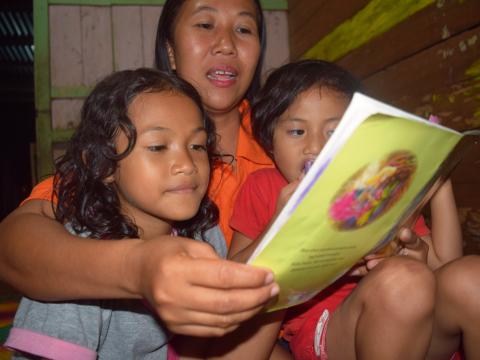 Start from Gracia
Wednesday, July 25, 2018
Gracia (8 yo) is a first child of Mr. Johny and Mrs. Magdalena. She is on 2nd grade in elementary school at Landak Regency, West Kalimantan.
She loves to play with her friend every day and spends her daily life at school. Gracia is a clever girl, even though she is difficult to read words.
Gracia's mom said that Gracia couldn't combine words into a sentence. She spelled the words slowly and was getting wrong when she read the first word in the sentence. Unfortunately, this case was happening with other children in Landak.
Based on the survey that initiated by Wahana Visi Indonesia Area Program (WVI AP) Landak for the third grader in one of the villages in Landak on 2017, 100 percent of students couldn't read correctly as their phase of development.
Most of the people were surprised by the survey result and the local government stated the village regulations to support the children become easy to read. The regulation asked the children to learn at home and the parents should teach them properly. This was the first moment of family literacy movement in the village.  
 The agreement of family literacy movement was made by the parents and several public figures which facilitated by WVI AP Landak. Several people were chosen to be the local facilitators which would get the training about reading awareness for the parents. 
Gracia's parent becomes the participants of the movement. After got the training, they practiced the knowledge in Gracia.
"We have accompanied her and teach her to read. We often bring the book and asked her to read it. We did it in our own way, but after we got the training, we learned about the way to make she become a good reader," said Johny.
Johny said that her wife and he were also reading the book with loudly and using good intonation.
"We also read the book together with Gracia and we did it for a month," he explained.
By using the technic, Gracia becomes one of the student (1 of 7) that could read well in her class. The valuation of her technic was given by Mr. Stefanus, Gracia's teacher.
"Gracia has a good progress. She can read well. If I asked her a question, she can answer the question," said Stefanus.
Now Gracia is enjoying her time to read books every day. She feels so happy especially when she can answer the teacher's question.
Gracia's mother said that the movement really helps herself to be a good local facilitator.
Written by Fenny Samosir, TP Coordinator Wahana Visi Indonesia Landak Area Program