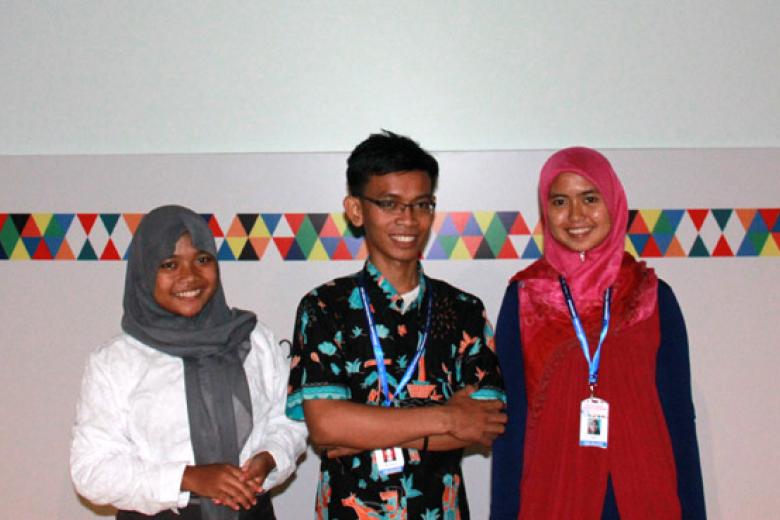 Story of happiness
Wednesday, April 1, 2015
Hello.. hi.. how are you? Are you happy now? Yes! Happiness is my story topic that I will share to all of you friends.
My name is Rimayani and my friends usually call me Rima. I live in the outskirs of Jakarta city. I was born from a very simple family but we love each other and it makes us happy. I started joining in with Wahana Visi Indonesia's activities when I was very young but I have just joined children forum when I was 14. There were a lot of trainings on public speaking, organizing, leadership, and peer education.
Then I suffered a near-fatal accident.
On 27 May 2011, I received a serious injury from a high voltage electric shock when I was in my relative's house in Bandung, West Java.
A doctor said that my right hand had to be amputated, but my parents found another doctor who could save my right hand although I had to undergo five surgeries.
It was painful. I felt that I was so weak. I was so frustrated to see my colleagues registered to senior high school. I was so sad to see people walking while I could only lie down on a hospital's bed. I was treated in hospital for three months, before I became an outpatient.
Wahana Visi facilitated us with the transportation to the hospital. Twice a week I have my visits to the hospital. For eight months I did physical therapy. Thank God that I could walk and move my hand. My weight has returned to the normal. 
A year after the "disaster" I have been able to study at SMA Negeri 9 Senior High School and returnes to join children forum activities. I am not ashamed, although my right hand is not perfect. Otherwise, this condition motivates me to make my parents happy and to create a better future. Three years have passed and I have been so active in child forum, peer educator, and preparing a modul activities.
In preparing the modul, I learned a lot of things like drama, public speaking, and others. I have experienced a lot of changes.
Friends, happiness is simple. You will feel happy if you walk your life gladly. Feeling glad starts from small things. By that way you can make your life meaningful. From now, make a decision to be happy. Happiness  depends on your own decision to be  happy. So happiness is a decision. Anytime, anywhere you can decide to be happy or not.
*Written by Rimayani, Member of Cilincing Children Forum