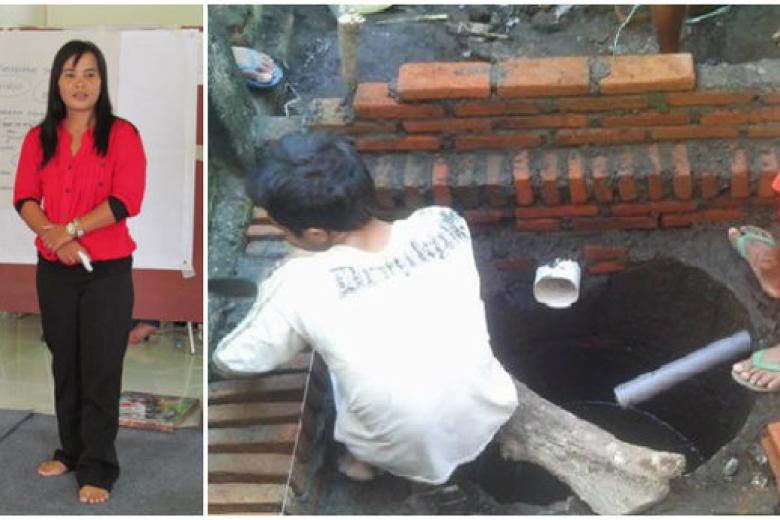 Suratmi's Journey in Freeing Her Land from Toke
Friday, January 10, 2014
Many people say that women are only able to take care of household chores. However, it is not so with Suratmi. Her exasperation to the abundance of toke (feces) in her village made her to feel being challenged to change the poor sanitation.
Starting from her participation in STBM (Community Based Total Sanitation) Training held by Wahana Visi Indonesia, Suratmi  (29) began to understand that her village was categorized as unhealthy village. After being mapped, it turned out that almost every inch of the land in her village was filled with toke.
Out of the 528 households in the Pantok village, only 91 families have a healthy toilet. It means that still 83% households did not have a healthy toilet. With her status as the wife of Anto, the Pantok village head, Suratmi finally decided to become an activator to free her village from the scattered toke.
Suratmi movement started in August 26, 2012 at a village meeting. In the meeting, Suratmi conducted triggering to 41 people. The meeting resulted in participatory planning in four hamlets. She even went to each hamlet when the communities made a planning in the hamlet level.
As the results of the plan, the community of each RT (sub-hamlet) agreed to collaborate in building the toilet of each household one by one. Each household will take turns to be helped by others in building its toilet.
Supported by her colleague Yasinta, Suratmi was getting more excited in freeing their lands from toke. Due to her perseverance for approximately one year and the continuous assistance by Wahana Visi staff, the families who had a healthy toilet had increased to 202 families at the end of September 2013. It means that there was an increase of 122% compared to the previous year.
This success gave a self-confidence to Suratmi to rant the STBM movement to become Village PKK STBM Movement (PKK: Pemberdayaan dan Kesejahteraan Keluarga - Family Empowerment and Welfare). "I want to train all members of the PKK to become the facilitators of village STBM, so that they could spread to every hamlet," said Suratmi about her ranting.
Now, Suratmi is trying to make sure that all of the working groups are really focused on the work plan of the 13 working groups that have been established. Implicitly, the Pantok village head even appreciates the success of his wife's hard work.
"The river water is now getting cleaner," said Anto who was just re-elected as the head of the village for the second period. This gives greater confidence for Suratmi toward the success of the STBM movement. This means that Suratmi's journey to liberate the village from toke is approaching to success. The target of Pantok village is ODF (Open Defecation Free) in 2015.* (Agustince Simatupang, WASH Coordinator of Wahana Visi Indonesia in Sekadau Operations Office | Translated by Lukas Ginting)