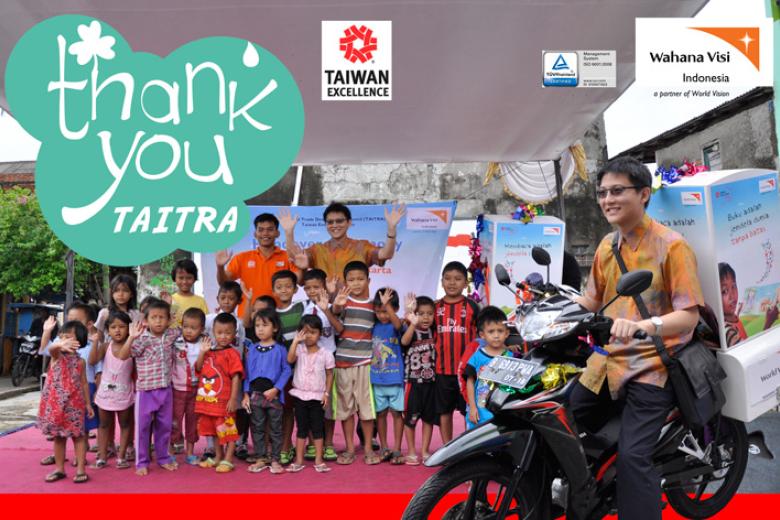 Taitra Supports Literacy Improvement in Cilincing
Wednesday, January 22, 2014
Improving the reading habit among the children is one of the objectives of the Cilincing Community Support Group (CCSG). This is one of programs of the group  to create Cilincing as a Child Friendly Area. This idea is supported by the Taiwan External Trade Development Council (Taitra) through its Corporate Social Responsibility (CSR) program called Taiwan Excellence Cares. Taitra has given a motorcycle mobile library for children in Cilincing, North Jakarta.
On Monday (January 20, 2014), Taitra Manager Mr Wen Lee handed over the motorcycle mobile library to Ms. Rukmiyati, leader of CCSG, in a simple ceremony in Cilincing.
"We hope this CSR will help and inspire the children in this area to have more positive activity. We hope this mobile motorcycle library would improve reading interest amongst the children to gain better knowledge and education. We believe Wahana Visi Indonesia is the suitable partner to implement Taitra's CSR in this country," says Mr. Wen.
The mobile motorcycle library is the appropriate answer for the Cilincing area in North Jakarta, as it is more flexible to reach the houses along the narrow lanes and alleys at the densely-populated area. The mobile library is equipped with various children books, such as lesson books, children story books, and children magazines with variety of topics. Periodically, the collections will be updated with new books of different stories and topics to spur children's interest to further nurture their reading habits and their love for learning.*
Symbolic handover from Mr. Wen Lee (TAITRA) to Bp. Denny (Wahana Visi Indonesia)
for motorcycle libraries in Cilincing area.
Photo TAITRA, Wahana Visi Indonesia, and people of Cilincing.