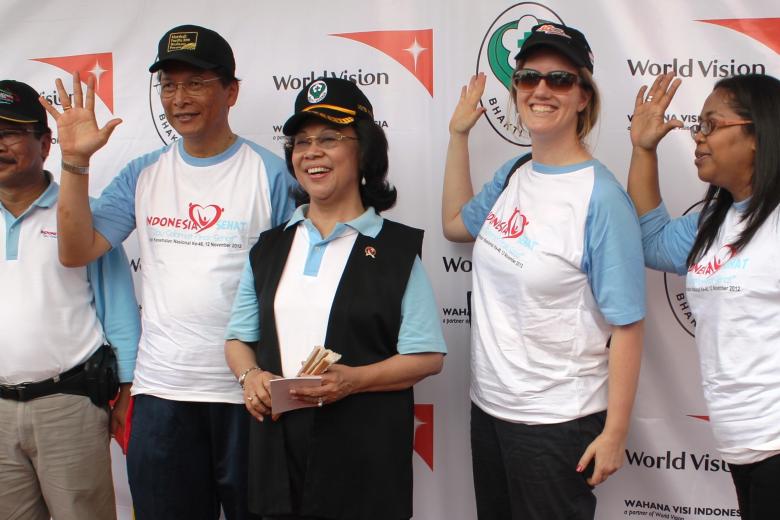 Thousands of Indonesians participate in Global Week of Action initiative
Tuesday, November 20, 2012
Indonesian Health Ministry and World Vision Indonesia along with several other organizations are successful to bring around 8,000 people to East Park of Senayan, Jakarta to celebrate the National Health Day on Sunday (November 18).
 Indonesian Minister of Health Nafsiah Mboi who attends the celebration praises all the participants who are willing to come to Senayan, and especially for World Vision who has led several other organizations to join hands in coping with health problems.
"This shows that we love health," says Nafsiah Mboi, who has just finished her membership of World Vision's Advisory Council this year.
Hundreds of hospital staffs from several cities ride bicycle as long as 7 kilometer and even 22 people of them have just finished their 9 day long trip by bicycle from Surabaya to Jakarta, some 1,000 km, to mark the national health day.
Meanwhile, thousands of people are encouraged to do exercise together and practice flash mob, two easy ways to maintain good health.
Attendants also have chances to get useful information on health and examine their health for free. In breastfeeding booth, mothers could consult with breastfeeding consultant how to successfully breastfeed their baby.
In other booth, it appears that parents learn how to rationally use of medicine, how to live healthy lifestyle, and learn other things on health issue.
Many ordinary people come to join the celebration although they have to arrange their own transportation. 
"We pay 20,000 rupiahs (US$ 2.2) to get here," says Meriana, 47, who joins with several other people to rent two buses.
The mother of Ega and Nenik pays their children health since they were babies. As a result, their children have never got sick, except catching a cold.
The celebration the national health day is part of World Vision Indonesia involvement in Global Weak of Action. World Vision Indonesia has done series of activities to improve mother and child health. 
World Vision's national office and World Vision's East Sumba Area Development Program advocates people to pay attention on mother and child health through radio advertisement. World Vision Indonesia also holds radio talk at I Radio Jakarta, which is relayed to I Radio Bandung, I Radio Yogyakarta, I Radio Medan and I Radio Makassar.
World Vision's urban Jakarta, Sikka, Maro, Nias, Urban Pontianak, and Ternate Area Development Programs also conduct radio talk.
World Vision Indonesia's Health Specialist Candra Wijaya is interviewed by Indonesia state TV program to inform the organization's health program.
World Vision arrange two media gatherings attended by 36 media, which produce several publications. World Vision holds a discussion on mother and child health with Kompas national daily newspaper. Up to 14 November, Kompas has published 6 articles on health.
Regularly World Vision upload message related with mother and child health on facebook and twitter.
World Vision calls for staff  and community people to take photos with hands raised and upload the photos at http://www.childhealthnow.org/gwa/wall. Up to 14 November more than 500 staff and community people have uploaded their photos.
World Vision Indonesia also urges sponsored children to watch video of mother and child health and up to 14 November more than 6037 children have seen the video. 
World Vision also holds competition of the nutrition garden for staff, for community, and for ADP offices in an effort to raise people awareness on health issue.