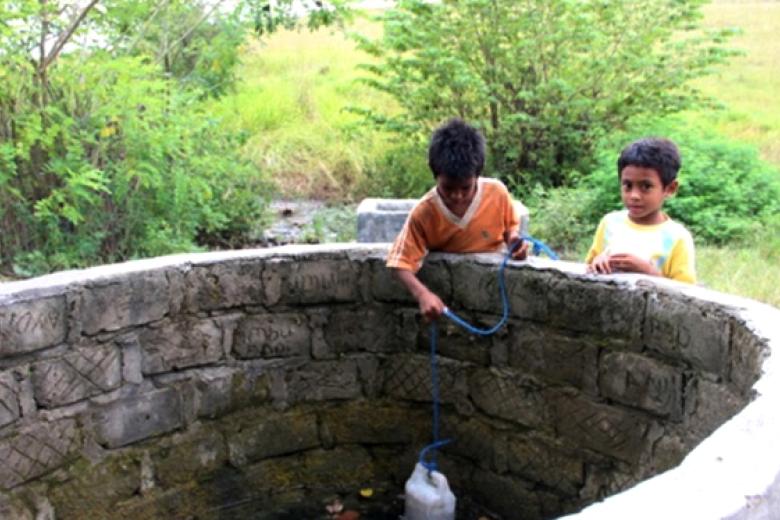 The well of life in our village
Friday, January 9, 2015
Yovintus, 8, and Elton, 7, run over the road toward the well located 200 metres away from their home. They live in Ripu, a sub-village in East Sumba, Indonesia which was previously known as driest village in the area.
Arriving at the well, the boys use jerry cans to fetch the water. After that, they go home by carrying water that will be used by their family. It used to be much more difficult to access clean water.
"We can take a bath every day now because water is abundantly available in our village," said Yovintus.
Ripu village does not have a spring to use. The one and only spring is located in Tewangga, 1.5 km away from their village. People can go there by walking on foot only.
When dry season comes, Ripu people had to use the limited water supply in the village, which was very dirty. And when there was no water, Yovintus and Elton had to go to school without taking a bath.
However, this is all in the past. Today, the boys can bathe before going to their school.
"We can take a bath every day now because water is abundantly available in our village," said Yovintus.
The changes are thanks to a programme called Farmer Managed Natural Regeneration (FMNR). It is a land regeneration program initiated by World Vision to restore degraded forest.
Using a low-cost technique, this program boosts the land's productivity, benefitting the community in dry-land areas. Offering planting and reforestation, FMNR program has trained Ripu villagers to make their own demonstration plot and plant it with trees such as mahogany and gmelina. By caring for the plants regularly, the seeds have turned into tall trees.
When dry season comes, the village still has enough water in their well because the trees are helping save water, reducing soil water evaporation. Every afternoon, Ripu villagers bring their children to take a bath near the well. They can also wash their clothes and give drinks to their cattle there.
"Before FMNR exists, the water was only available until August. At that time, people needed to fetch water in Tewangga, 1.5 km away from this village. When the area was really dry, we needed to spend extra money to buy water provided by the government," said Lusia Lawa Djati, 26, a mother from Ripu village.
Today, there is enough water for the needs of Ripu villagers. They no longer have difficulties to get water. FMNR process in East Sumba brings many benefits for Ripu villagers especially children like Yovintus and Elton.
*Written by Beatrix Mbete, Monitoring and Evaluation Coordinator,Wahana Visi Indonesia at East Sumba operational office