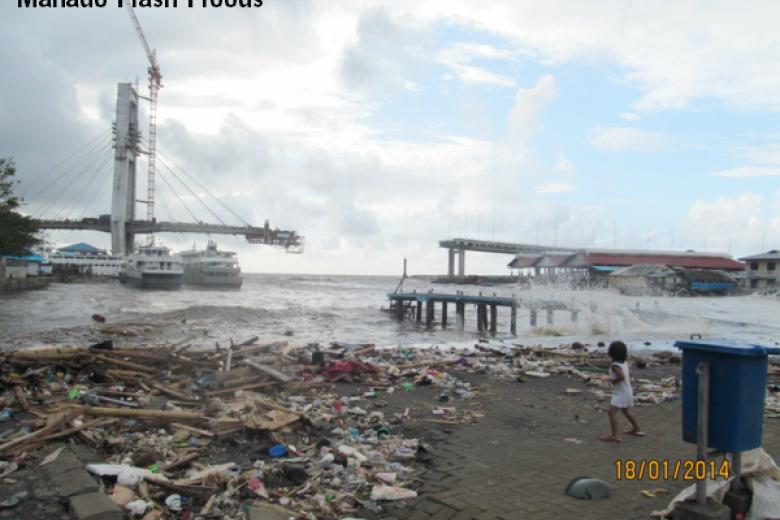 World Vision Channels Aid as Disasters Battered Indonesia
Monday, January 20, 2014
Jakarta floods - Wahana Visi Indonesia
Mount Sinabung, Karo District, North Sumatera - doc Antara Photo 
Jakarta, January 20, 2014 -- World Vision (WV) Indonesia has initiated emergency responses to ease the lives of disasters' victims as floods, flashfloods, and volcano eruption battered the country.

"We have started channeling aid to the children impacted by the floods in Jakarta," WV Indonesia Emergency Response specialist Suryadi said.

Alfred Tuanakotta, response manager for Jakarta, said that 500 packages of children kits have been distributed in four Area Development Programs in Jakarta on Saturday and Sunday (19-20 January).

"We have also set up a Child Friendly Space at the sports hall in Jatinegara, East Jakarta, starting yesterday (January 19) and also another CFS in Penjaringan area in North Jakarta," Alfred said.

"Our team is in the process to open three more CFS in East Jakarta to support the impacted children," he added.

Tens of low areas in Jakarta have suffered from flooding -- with the worst area, such as Kampung Pulo neighborhood in Jakarta being inundated up to two to three meters -- over the weekend. River waters overflowed due to heavy rains both in the capital city and at the mountain-side south of Jakarta, where rivers flowing through Jakarta originated.

Some 30-40,000 people in Jakarta have been forced to abandon their inundated houses and temporarily stay at the emergency shelters or public places near their neighborhoods.

Weather officials have predicted more heavy rains in Jakarta and its neighboring areas in the coming weeks, which might worsen the flooding in Jakarta at the end of January up to early February.

Suryadi said that WV Indonesia has planned to raise some US$140,000 for the emergency responses in Jakarta. "We will provide emergency support to almost 9,500 families in five Area Development Program areas in Jakarta. Besides channeling children kits, we also plan to distribute cleaning/hygiene kits and will conduct scores of health promotion training for the flood victims."

The five impacted ADPs are situated in Cawang, Jatinegara and Kebon Pala in East Jakarta, and in Cilincing and Penjaringan in North Jakarta.

Meanwhile, the city of Manado, capital of the North Sulawesi province, and its neighboring towns of Tinoor and Tomohon have also suffered from severe flashfloods last week which killed 19 people and impacted almost 20,000 residents.

"We are in the process of distributing some 150 packages of children kits for the victims," Suryadi explained. Two officers have been sent to Manado to conduct more in-depth assessment for follow-up response.

"We have received initial reports that we might need to distribute cleaning kits soon as many houses were still full of mud and other debris from the flashfloods," Suryadi said.

World Vision Indonesia has also provided further support to the people displaced by Mount Sinabung eruption in North Sumatra province. The long-dormant mountain has erupted hundreds of times since September, forcing over 20,000 people from villages close to the mountain to find temporary refuge at safer places, such as churches, mosques, and other public places.

"We have trained the mothers who have babies to promote exclusive breast-feeding to their under-six-month-old babies and to continue breast-feeding until two years the feeding of supplement food," Suryadi noted. This has been done to reduce the tendency of the local mothers to rely too much on formula milk donation.

"Some 350 children kits we sent from Jakarta is also arriving in Kabanjahe area today (January 20) and will soon be distributed to the families who have under-five children," he said.

WV Indonesia plans to distribute a total of 1,200 packages of children kits to the victims of Sinabung eruption. "We will use some US$75,000 of funding from World Vision Germany," Suryadi explained.

In cooperation with the local institution, WV is also opening women and children friendly spaces for the displaced people. Besides providing support to the impacted children, the centers will also provide consultations to the mothers so that they could give better care for their babies and children.

Floods have also inundated other places in Indonesia over the last few days. The districts of Karawang, Subang, Indramayu, Pati and Tuban along the northern-coast of Java are among the areas heavily inundated by floods.

World Vision Indonesia is closely monitoring the situation to decide whether the organization need to initiate emergency responses to help the victims.
Reported by Bartolomeus Marsudiharjo and Hendro Suwito, Communications Department