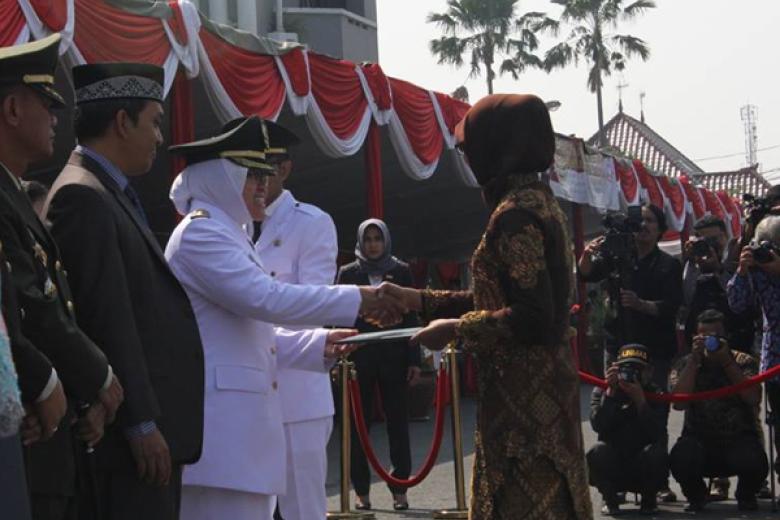 From Zero to Hero
Friday, October 10, 2014
She was born of a poor family, but that does not mean there is no hope for Nur Fatti, 19. She can still step forward and change her life.
Ria, Nur's nickname, is attending her third semester of State Surabaya University majoring in Management. She received a scholarship to study at the university.
Since Ria was a baby, she has been raised by her close relative Setiawati, who has played a significant role in laying the foundation of Ria's positive values.
"She encouraged me to join organization, so I can use my leisure time to do positive things, not just playing all the time," saya Ria recently, referring to Setiwati.
Because of Setiawati's advice and motivation, Ria joined the Wahana Visi's children study club when she was in primary school. She also joins other activities held by Wahana Visi like showing her community through photos and joining Da' Bajay Children Forum.
She participated in the children forum from third grade to junior high school. When she was in the second year of senior high school, she was appointed as the chairwoman of the children forum for the period of 2011-2013.
Under Ria's leadership, Da'Bajay Children Forum made proud achievements like increasing the number of child participants from 20 to 100!
Ria also decided to create new division of the forum called the talent division. Following the creation of the new division, many children joined because they wanted to learn music, dance, theatre, and multimedia.
"Because they want to develop their talent, so many children join the children forum," says Ria.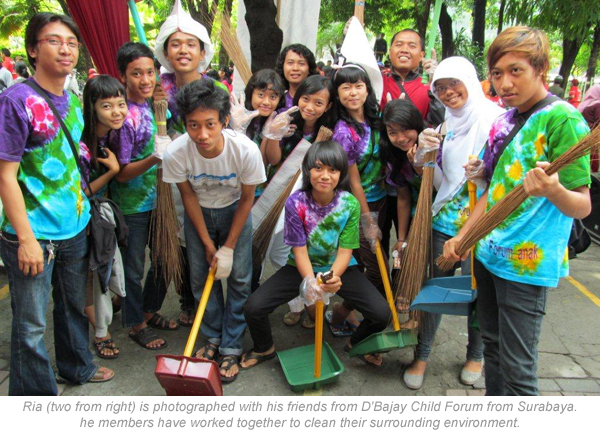 Da'Bajay Children Forum was originally established by Wahana Visi's Surabaya 2 Area Development Programme.
When Ria ended her leadership position in the forum, she is willingly became a member of the adviser council- a position previously held by Wahana Visi's Field Facilitator.
On 17 August 2014, when the country celebrated its Independence day, Ria was recognized as a "pioneer youth" by Surabaya Mayor Tri Rismaharini and earned 5,000,000 rupiahs (some USD$454).
*Written by Andi Nugroho, Field Facilitator, Wahana Visi Indonesia at Surabaya 2 operational office