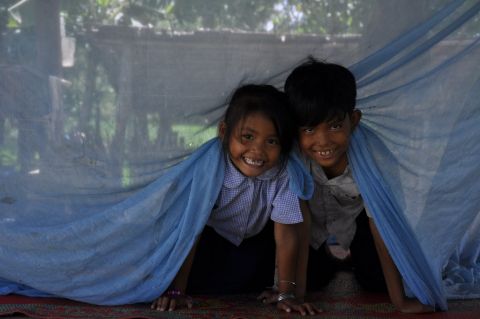 The top two killers of children under the age of 5 are infectious diseases. Together, pneumonia and diarrhoeal diseases are responsible for the deaths of more than 2.5 million children under age 5 every year. Yet we know cost-effective ways to prevent this from happening. Malaria still kills about 600,000 children a year, yet an insecticide-treated bed net, education about how to prevent attracting mosquitoes and seeking treatment when infected could save the majority of those killed.
Focusing on care from pregnancy and childbirth through age 5 saves lives and money. Disease prevention and protection, clean water, early diagnosis and prompt treatment are the keys to saving most of the children lost to infectious diseases in the poorest communities. World Vision uses a community-based approach in which volunteers are trained and equipped to educate families to recognise signs of illness and to advise and provide medical attention as needed.
WORLD VISION'S RESPONSE
Community case management: With community case management, community health workers are trained to identify, treat and prevent disease, as well as encourage seeking additional care at local health facilities. Community case management can help prevent 70 per cent of pneumonia-related deaths in children under five, prevent malaria-specific mortality by 60 per cent, and prevent deaths from diarrhoea by 93 per cent by introducing oral rehydration therapy, 23 per cent by introducing zinc.
Malaria Prevention and Treatment: World Vision is following through on its commitment to fight malaria until it is defeated. Prevention and treatment for malaria is woven into our core global health strategy – called the 7-11 strategy. This means that, in areas where malaria is an issue, we work to assure that families – especially mothers and children under age 5 – are sleeping under a long-lasting insecticide treated bednet. We also work to strengthen health systems to make sure families have access to proper diagnosis, treatment and care. Through our water, sanitation and hygiene interventions we address the sanitation issues that create breeding grounds for malaria-carrying mosquitos.
Partnership for paediatric tuberculosis: World Vision is partnering with the Desmond Tutu Centre for Pediatric Tuberculosis to improve our evidence base for diagnosis and treatment of childhood tuberculosis, which is lagging far behind diagnosis and treatment of TB in adults.
Partnership with the Global Fund: World Vision partners significantly with the Global Fund to deliver infectious-disease-related projects worldwide. See World Vision's Global Fund brochure to learn more.