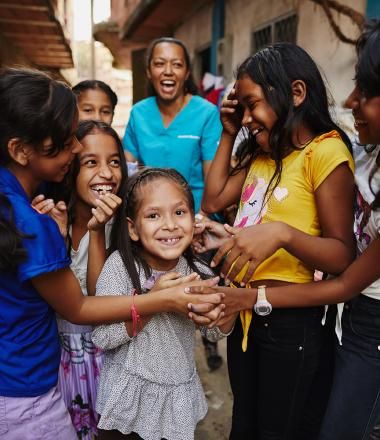 International Women's Day
March 8th is International Women's Day. On this day, World Vision celebrates women all around the world.
World Vision believes that empowering and educating women is an essential part of fighting poverty across the globe.
Women who can access financial resources or have control over productive assets like land are able to make decisions about their lives and meet their families basic needs. This in turn will often lead to reduced exposure of their children to risks such as gender-based violence, early marriage and sexual exploitation. 
Sadly, in many parts of the developing world, women aren't given the opportunity to realize their God-given potential. They're often treated as second-class citizens, subject to gender-based discrimination, abuse, and exploitation. For example,many girls aren't given the chance to stay in school or pursue their dreams for the future.
World Vision is working with women all over the world, assisting them as they do their very best to make a good life for themselves and their families. 
Through our Strong Women, Strong World initiative, World Vision seeks to equip women to become active participants in the development of their communities.
Learn how World Vision is promoting women's economic empowerment by training over 8,600 women in Bangladesh so they can now earn steady incomes to benefit their children's health and education. 
Read about 15 places in the world where girls marry before the age of 15 Before She's Ready 
Learn how girls are driven or trapped into early marriage in WV UK's report Exploring Early Marriage in Fragile States.
What is International Women's Day?

International Women's Day is a day to celebrate the significance of women as well as many of the contributions and achievements of women throughout history. It also is a day for reflection that serves as a call to action for greater gender justice in the world. On this day, women are recognized for their achievements no matter their nationality, race, linguistic, cultural, political or economic status. Celebrated on March 8th in many countries, no one government or organization is singularly responsible for International Women's Day, as the day is recognized as more of a collective effort throughout the world. International Women's Day has been occurring annually for more than a century as a day focused on celebration, unity, reflection, action and advocacy, which differs in emphasis from place to place.
Internationally, purple is a color recognized for symbolizing women. Purple is used along with green and previously white as colors to signify International Women's Day. Purple signifies justice and dignity, green symbolizes hope and white symbolizes purity, although white has not been used as a symbolic color for some time.
History of International Women's Day

The very first day of this kind, which was then called "National Woman's Day," was held on 28 February, 1909, as a demonstration against poor working conditions and low pay for garment workers in New York. At the International Conference of Working Women's second gathering in Copenhagen in 1910, it was suggested that there be a shared day of celebration in every country annually — an idea that was unanimously approved by more than 100 women from 17 countries and led to the first International Women's Day in 1911.
The first International Women's Day was celebrated in Denmark, Switzerland, Germany and Austria on 19 March, 1911. It wasn't until 1975 that the day was celebrated on March 8th, when it was recognized by the United Nations. The March 8th date came from a national holiday in Russia commemorating when women gained suffrage in 1917. In 1996, the UN started introducing an annual theme for each International Women's Day, the very first being: "Celebrating the past, planning for the future." The theme for the 2019 event is: "Think equal, build smart, innovate for change," and the hashtag #BalanceforBetter is being encouraged.