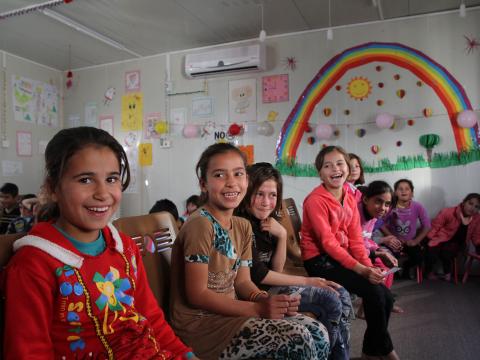 Our Response
In 2015 World Vision mobilised over US$116 million to assist approximately 1.1 million people affected by the Syria crisis, including over 630,000 children.
World Vision began responding to the needs of displaced children and families in and around Syria in 2011 through its existing presence in vulnerable communities across Lebanon. Since then, World Vision's Syria Crisis Response has expanded to include five countries: Syria, Jordan, Iraq, Lebanon and Turkey. 
SUMMARY OF KEY INTERVENTIONS IN EACH SYRIA CRISIS RESPONSE COUNTRY IN 2015
World Vision's Syria Crisis Response has offices in Lebanon, Turkey, Iraq and Jordan, with cross-border operations from Turkey into Syria. A regional response team, based in Jordan, provides technical advice, oversight and resource management.
● Lebanon: Cash programming through e-cards; municipal repairs and direct household support on water and sanitation; supporting children through educational and psychosocial programmes
● Syria: Sustainable water and sanitation solutions, psychosocial support for children; household and winter items; hygiene kits and baby kits; filling gaps in fractured health-care services
● Turkey: First distribution to refugees in July 2015 (baby kits)
● Jordan: School, extracurricular and psychosocial activities for children of all backgrounds; drainage, water supply system and sanitation facilities in refugee camps; water, sanitation and hygiene facilities rehabilitated in schools in host communities
● Iraq: Food assistance; drilling boreholes and upgrading water treatment plants; fixed and mobile clinics in areas with no health care; informal and alternative learning opportunities for children; women's centre to protect women and girls from violence
● Regional response team: Concerted advocacy for children in emergencies; centralised Response-wide system for monitoring, evaluation, evidence and learning