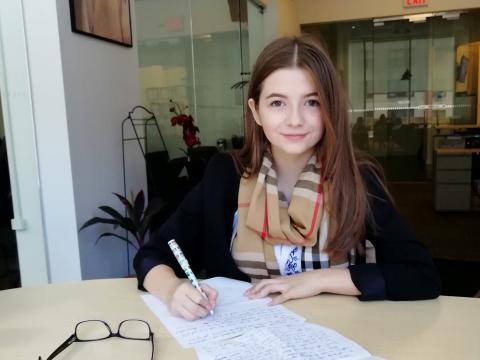 Ending Violence Against Children: The importance of getting involved
Sunday, November 18, 2018
By Nicoleta,16, Romania 
Violence is a problem that we are used to facing; everywhere we look there is something bad happening but we can overcome it with kindness as long as we are involved in creating a better world.
I am part of the Children Consultative Committee from World Vision Romania, which is formed by children from all around the country that love to be involved and make changes. We contributed to the World Vision global campaign It takes a world to end violence against children with activities like informational sessions that had the goal of raising awareness about all the violence that the children suffer. We also did workshops where we drew, wrote poems, played games, all related to the theme. Moreover in three different camps we talked a lot with children of all ages about the problems from their communities and what to do if they have to face something like that, as well as sharing flyers and posters in school halls and public spaces that pictured the consequences of violence and why we, as young people, should be more involved.
On top of that, in October also did a series of activities celebrating the International Day of Non-Violence where we presented an opportunity to play, get involved in a flash mob and other games promoting our messages to end violence for children across our communities
Based on all of the work that we have done, we made a national report called 'The role of children in preventing violence in Romania'. Also I took part in the campaign launch of "Why do we hit the kids", with another child from the Children's Consultative Committee where we both talked about our involvement. We presented two reports, one that focused on the impact of media coverage of violence on children and the national one. We also did a photo-voice on Sustainable Development Goals where we captured the problems of our communities. In each activity the children were in the focus group and also the work group.
How can we fix the problems that involve the kids and the teenagers without their own help and participation? Our opinions and our ideas without a doubt are valuable and innovative, the change can happen and it will, if we keep making steps forward and accepting the fact that the children are the future and they should be more involved.