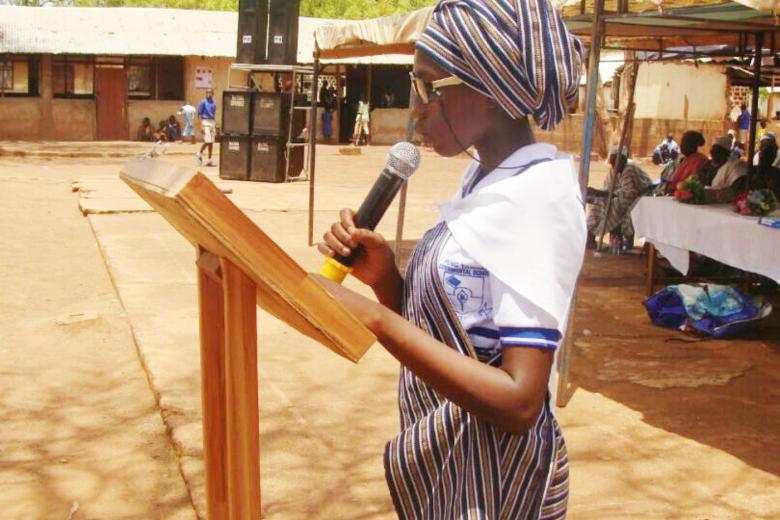 How to End Violence Against Children: The power of activism and faith
Sunday, November 18, 2018
By Sarafina, 16, Ghana
I am a Young Leader and honourable speaker of the Child Parliament Club in my District. I am writing this blog on the World Day for Prevention of Child Abuse and Universal Children's Day to share with you all the work that we, child parliamentarians, are doing.
Our Child Parliament Club seeks to find problems affecting children and after identifying these problems, we look for solutions to them. Our work includes educating our peers the rights and freedoms of children so that we can defend ourselves against any form of violence used against us. We also organise community sensitisation activities where we speak with chiefs, parents and other people on the need to end child marriage as well as other forms of violence against children. We also engage in debates and quiz competitions between schools during which we educate our audience about stopping violence against children.
As part of our advocacy work we presented a communiqué to the Municipal Chief Executive (MCE) as the president representative at the municipal level, requiring action against violence on children, especially child marriage. I am pleased to share with you all that, the work we do as Child Parliamentarians has indeed started to bear fruit. We have had community structures, the police, CHRAJ and many other people rescuing girls in our communities before marriages can take place.
Just some months ago, we had an issue where a parent reported a faith leader who was engaging a girl child for marriage to the chief and elders of the community. The matter was later reported to the house by one of the honourable members. The leadership of the house consulted the MCE who helped to rescue the little girl and as we speak now, today, she is back to school under the care of the MCE. We thank God that at least she will now have the opportunity to enjoy her education and her life.
We also organised a "soccer clinic" as part of our campaign against child marriage. This soccer clinic was not only organised for girls to exhibit  talents they may not have had the chance to share before, but also had the agenda of educating the public on child marriage. This is because, in our part of the world, seeing girls play soccer is rare so the soccer clinic attracted a lot of people to the playground who heard our messages about ending child marriage.
I would like to recommend to my peers and all children to stand up and establish strong children's groups like ours, so that together we can fight against violence on children. I plead with the leaders of our dear nations to strictly enforce the laws, acts and policies enacted in favour of upholding children's rights and ending violence against children. I also recommend that, parents make conscious efforts to support their children most especially the girls - for we are the ones who take care of you in your old age.
In the World Day for Prevention of Child Abuse, remember that I am playing my part in ending violence against children; please, also play your part.