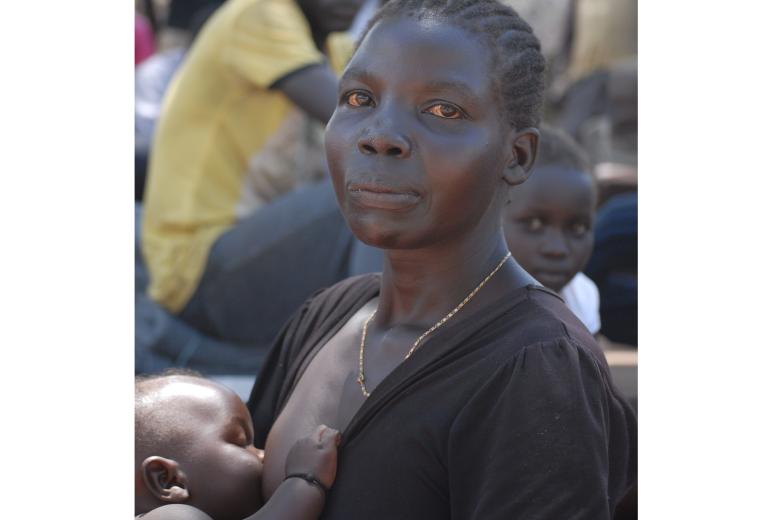 A Mother's Day filled with fears and blessings
Friday, May 12, 2017
By: Kristy Allen-Shirley
For many, Mother's Day is a time to be a modestly spoiled with cherished words of appreciation, a jumble of school-made crafts, crayon-decorated cards, a pretty bouquet or a family meal. A day of affection and togetherness. It's a different sentiment however for many mothers in northern Uganda, a gnawing despair in the world's fastest growing refugee crisis.
This Sunday, many mothers and children in South Sudan will be on the journey towards a safe haven across the border. There will be hunger and thirst for days, or sometimes weeks, of trekking through bush in 40 degree heat. This comes with foraging wild fruits and filling punctured water containers at scarce wells. There will also be fear, while evading sexual and physical violence perpetrated by those deliberately targeting people moving towards safety. There is no place to sleep, no ability to bring treasured, or even practical belongings and no assurance that the destination will be reached.
For those that successfully cross the border into Uganda (counted among the close to 900,000 South Sudanese who have fled conflict and famine), there is relief, safety and community. It is a situation though that is fast out-pacing the humanitarian community and Uganda government's ability to meet the most basic needs. At more than 80 per cent, women and children far outweigh male arrivals. Many husbands, fathers and brothers stay behind to fight on both sides, or in so many cases, have already perished in the conflict.
Globally, we're seeing the highest levels of forced displacement since World War II. Conflicts like those in South Sudan are not only exposing children to traumatic forms of violence, but forcing their families to be on the move, leaving them especially vulnerable, even after reaching "safety."
The mothers I meet in Uganda (some only hours after arriving in "reception centres" set up to process, assess and assist refugees), are visibly exhausted, patiently awaiting a first hot meal of cornmeal and beans to share with their hungry children. The line for the meal is long – sometimes taking seven hours to feed the new arrivals. Everywhere, babies wail, nuzzling at their mum's breast for any milk. Lilian, 27, whose husband and 3-year-old child died, struggles to feed 2-month-old Jonathan as she tells me, "there is no milk coming." She dips her little finger into the bean gravy and Jonathan draws on it frantically.
For mothers like Lilian, assistance is already in motion. Once she has registered in the centre, aid agencies collectively ensure each family is given emergency accommodation, food, water and specialist support. Within a few days she will be allocated her own plot with a tent, food and items such as a mosquito net, solar-powered lamp and tools. It is the start of a new kind of journey and one where the future is far from certain, but whilst in the settlement, safety is mostly assured.
Like mothers the world over, Lilian is counting her blessings this weekend. But at the same time, she worries about those back home. "There are many more coming here," she says. More than 2,000 people are arriving each day careening towards a total refugee population of one million by mid-year. "Whatever you have, that is what we need," she says, "For now, I just want my baby to be safe."
World Vision is working in Uganda's biggest refugee settlements already assisting more than 600,000 people with food, child protection, water and sanitation and relief items.