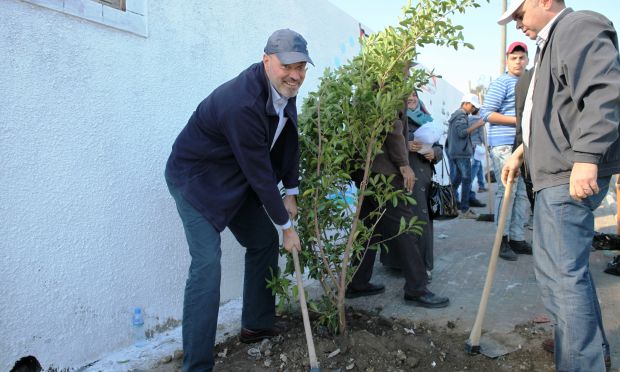 The position of a National Director in any World Vision office is very challenging, but for David Verboom, the new National Director in World Vision Jerusalem – West Bank – Gaza office, "challenging" is a huge understatement.
A couple of months after David took over his role in Jerusalem, the situation on the ground heated up with increased violence that had even affected staff movement and access to offices and the communities. The overall budget cuts in World Vision did also impact JWG, and some difficult decisions had to be made, including structural changes. But through all the difficulties, David continues to lead the ministry with strong and confident steps, guided by his strong faith and wealth of experience into more effective and efficient operations.
He made a strong presence in the field from the early beginning and continues to actively participate in events with local and national partners. This blog post is dedicated to some of his recent visits and JWG's accomplishments towards improved child wellbeing in the Palestinian communities.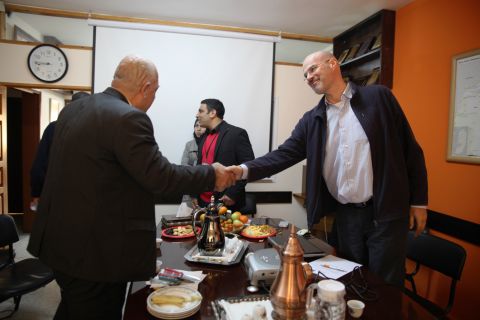 WV JWG National Director David Verboom meets with Sheikh Salah Dein Jodeh; the Director of Waqf (Endowment) in Jenin.
JWG had a fruitful partnership with the Ministry of Waqf last year, through which a capacity building program for 30 Imams was organized and tackled important issues impacting the local communities such as early marriages, child labor, women's and children's rights and and Keeping Children Safe Online.
JWG will replicate the experience this coming January 2016 with another 25 Imams and Mosque Orators.
A student is planting a tree as part of the "Towards Sustainable Energy Production in Palestine" project that is being implemented in South Salfit, South Nablus and Jenin areas.
A student is writing on the wall the name of the project in Arabic language; "Towards Sustainable Energy Production in Palestine".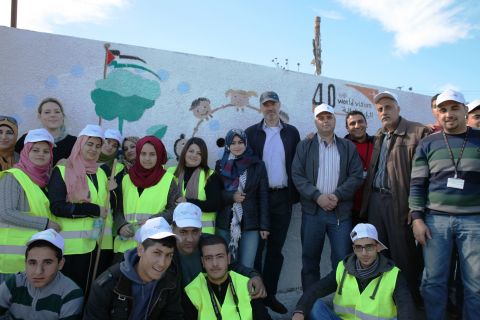 A group of youth surrounding WV's National Director, David Verboom and Jenin Zonal Manager, Ashraf Isayed in front of a mural painting that the students have created at the entrance of Yab'ad city to promote the culture of green energy.
A group of girls posing for a picture after participating in cleaning the streets of Yab'ad city.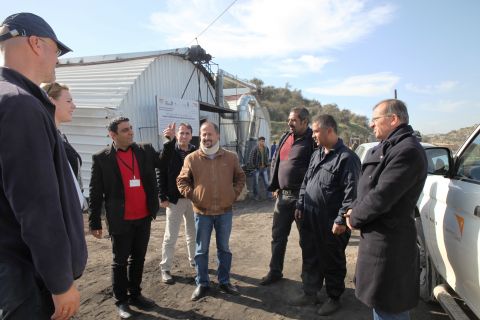 "Towards a sustainable charcoal production in Jenin governorate" project aims at finding the best alternative technologies to make charcoal production less harmful to our environment and more viable using piloting systems that include air and water filtering.
The charcoal project is funded by Global Environment Facility (GEF), UNDP, World Vision Canada and New Zealand, the Belgian Development Cooperation and the local community.
A young woman from Jenin area working in a sewing factory after being trained along with 25 other women on sewing skills as part of the Economic Development program. World Vision helped the trained women find employment opportunities in local factories after their training.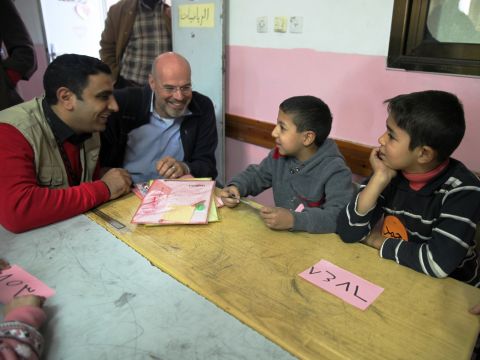 JWG National Director, David Verboom and the Jenin Zonal Manager, Ashraf Isayed enjoying chatting with two children in the resource room that World Vision helped establish to assist children with learning difficulties.
Three girls smiling in a mathematics class that is part of the remedial education program, that aims at improving their academic abilities in reading comprehension and mathematics skills.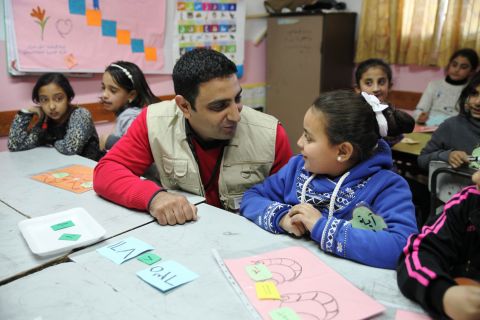 Jenin Zonal Manager, Ashraf Isayed chatting with a girl attending a mathematics class.
WV JWG National Director opening the Christmas bazaar in Zababdeh, a village in the Jenin district, with 75% Christian population.
A shot of the Christmas bazaar that was supported by World Vision JWG.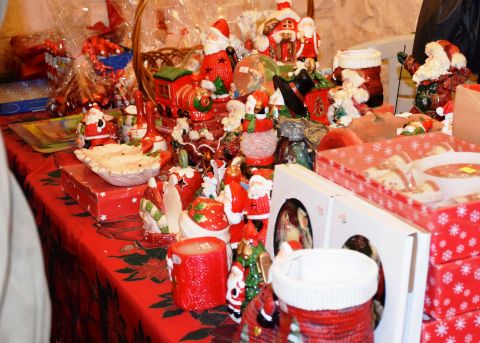 Different Christmas ornaments exhibited at the Zababdeh bazaar.
A group picture of WV JWG staff with family members in the Christmas bazaar.