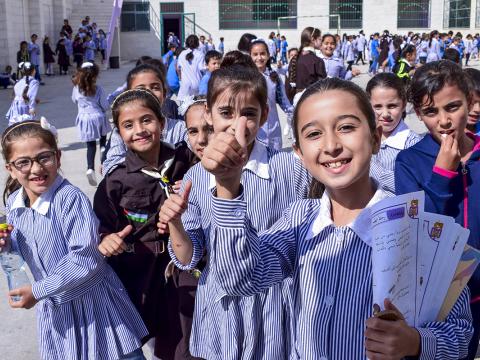 Our Work
World Vision works with communities and children in Jerusalem, the West Bank and Gaza through a range of programmes that promote change and try to improve their well-being.

CHILD PROTECTION AND PARTICIPATION
World Vision JWG, in partnership with the Ministry of Education (MoE) and the Ministry of Social Development (MoSD), implements a holistic child protection and participation programme across all targeted areas in the West Bank. CP&A uses a 'systems approach' to strengthen the protective environment around children as well as the capacities of children themselves.  Interventions focus on improving laws and accountability, improving social services, catalysing behaviour and attitude change, and strengthening child resilience. Current programming in the West Bank includes:
Capacity building for caregivers, including faith leaders and church leaders, on positive parenting.
Active engagement of children, adolescents and youth in developing their life skills and in "Ending violence" initiatives and activities that promote social accountability on child protection issues.
Empowering different community members, including children, adolescents and youth, to advocate for improved local referral and response mechanisms as well as national level policies and regulations to tackle violence and strengthen the overall child protection system for all boys and girls.
This program targets children from ages 0-18, and focuses on the topics: Domestic and School Violence and Early Child Marriage.

EARLY CHILDHOOD DEVELOPMENT
World Vision JWG, in partnership with the MoE and Ministry of Health (MoH), implements holistic ECD models for vulnerable Palestinian children ages 0-6.  The three project models build the capacity of parents, caregivers, teachers and practitioners to enable them to support children's healthy cognitive and socio-emotional development.
Go Baby Go and EttC

Go Baby Go and EttC (ages 0-3) targets the first 1,000 days of life, a crucial period of rapid brain growth. The models support parents, who are first teachers of their infants, with individual home-based support and group sessions for improved parenting skills, family well-being and holistic child development. 

World Vision JWG has trained 137 community health volunteers through the programme, leading to statistically significant results on the impact for Palestinian children, as demonstrated in adjacent table. 
Learning Roots

Learning Roots focuses on the developmental needs of children (ages 3-6). It engages parents to support early reading and numeracy skills; strengthens systems by working with national policymakers; fosters community links with the formal sector; and works to strengthen early childhood development centers.

EDUCATION IN EMERGENCIES (EiE)
World Vision JWG, in partnership with the MoE and village councils, implements EIE programming in humanitarian contexts, mainly Area 'C'. Programming includes measures to mitigate security and protection issues, provide school-based psychosocial support, provide training in disaster risk reduction and psychological first aid, address infrastructure issues and meet environmental needs based on the need of each community. Activities include installation of solar energy panels, reusing/recycling waste water, recycling solid waste, environmental awareness and activities that build greater capacity at the school and community level. We also establish and rehabilitate school gardens and create safe play areas for children living in these high risk environments.
This program targets children from ages 5-18, and focuses on the topics: Low Performance & Drop out and Violence.

YOUTH RESILIENCE AND LIFE SKILLS
World Vision JWG, in partnership with the MoE and Ministry of Labor (MoL), implements programmes to strengthen the resilience of adolescents by building their life skills and skills for employment.
Innovation, Motivation, Participation. Action, Community Teams (IMPACT Clubs)

World Vision JWG builds the capacity of youth in active citizenship, employability, social entrepreneurship, and leadership through an evidence-based practice, IMPACT+.  IMPACT+ is a relatively new model for World Vision, but has been found to bring statistically significant results (p<0.05) in as short as 12 months in other countries in the Middle East, Eastern European region.   For example in Armenia, adolescents moved from a mainly pessimistic personality to a mainly optimistic one.
Technical Vocational and Education Training (TVET)

We offer vulnerable boys and girls, identified through our community-based presence, opportunities to connect with TVET programmes based on market driven skills. We also work to improve the quality of TVET programming (supply).
This program targets children from ages 12-18, and focuses on the topics: Low Performance & Drop out, Early Marriage and Low Income.