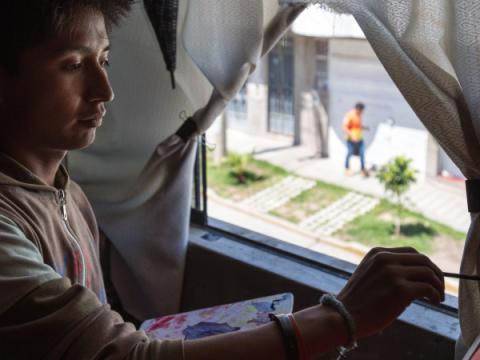 Week 6: Joel's Story
"I was in prison and you came to visit me..."
EXPERIENCE
Here's how you can walk in Joel's story throughout your daily actions this week. As you work or do chores around the house, think about what it would be like to be a child who is forced to work and not free to really be a kid.
Tie a piece of twine or string around your wrist. When you notice it throughout the day, use that moment to think about and pray for the millions of children stuck in slavery and labour.
Towards the end of the week, reflect on these questions and discuss them with your family, small group or a friend.
As you went throughout the week, how often did the string around your wrist catch your attention and make you stop to think about Joel's story?

How has walking with Joel's story changed your understanding of child labourers and those imprisoned?
OTHER WAYS YOU CAN TAKE ACTION
Local: Befriend someone who is alone in your community.
Global: Visit your country's World Vision website to see how you can sponsor a child or respond to the millions of children trapped in slavery and labour around the world.  
PRAY
Pray for children like Joel who are working or have been forced to work.
Ask for God to give strength, protection and freedom to children who are currently enslaved and forced to work

Pray those in power - government, policy makers, other authorities how harmful child labour is and work towards making a world where all children are free.

Pray that churches, organisations & communities responding to child labour would have the means to play their part in preventing and stopping child labour, and help to restore the lives of those affected by it.