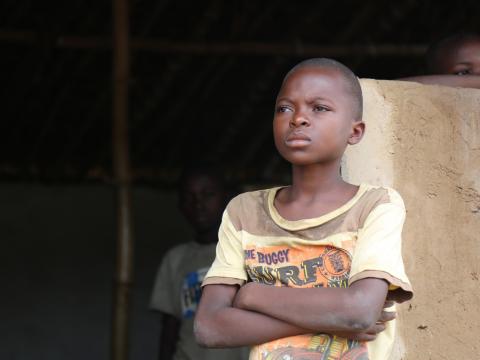 Build us schools. Give us education | Child needs in Kasais, DRC
Sunday, April 8, 2018
"My name is Ndibu. I am 13-years-old. I am the first born child in a family of two children. I live with my mother and a brother. I go to school and I am in grade six. 
My father was killed during the war. He was shot. I, my mother and my young brother fled from our village when the militia arrived. The militia burnt houses, took property and were forcing young boys to join them. 
We ran to the bush to hide. A lot of people from my village went to hide too. There was no food in the bush. We were eating leaves and wild fruits. Some of food we were eating was bitter. It was making me sick. I was also bitten by a lot of mosquitoes. I did not like it. 
One night we crossed a very big river. The name of the river is Lualua. I was very scared. I thought I was going to drown. We crossed to the other side of the river and reached the village of my grandparents. 
I now live with my grandparents. They took me to a new school. They are now assisting my mother with school fees. But the school I go to is not good. Some of the classes were damaged during the war. 
Whenever it rains, our classes stop. The roof of the school leaks and we get wet. When it rains, I go home. 
I hear that the school in the village I used to live was destroyed. I hear also that some of my friends were killed. My mother says we cannot go back to the village. I am scared too. I don't want to go back. I am afraid the war might come back again. 
When I grow up, I would like to be an English teacher. Not many people in my area speak English. Many people speak French and Tshiluba (a local language). 
During my free time I play with my friends. I like to play soccer. 
Sometimes bad memories about war come to my mind. I think about my father who died during the war. He used to chat with me. When he had money, he was buying me new clothes. 
The leaders should think about ways of bringing peace in this country. The leaders should build us new schools. The leaders should give us education." 
Since August 2016, over 2.5 million inhabitants of Grand Kasai, Tanganyika and South Kivu have been forced from their homes escaping violence. The Humanitarian Response Plan for the Democratic Republic of Congo (DRC) for 2018 predicts that 13.1 million people will need humanitarian assistance and protection this year. 
More than 60% of these are children: 7.9 million girls and boys under the age of 18 are in dire need of support to survive and to thrive. Nearly 4.6 million people are facing emergency levels of food insecurity, with 2 million children at risk of severe acute malnutrition. More than 400 schools around Kasai were sacked, burned down or destroyed during the war and 440,000 children were unable to complete their 2016-2017 school year (UNICEF Report). 
World Vision declared a Category III National Emergency in the Kasais in July 2017, and scaled the response up to a Global Category III in November 2017. 
World Vision's goal is to reach 2 million beneficiaries in the Grand Kasais Region by December 2018. Interventions focus on Education, Food Security, Nutrition, Child Protection and WASH, with a funding goal of 40 million US$.