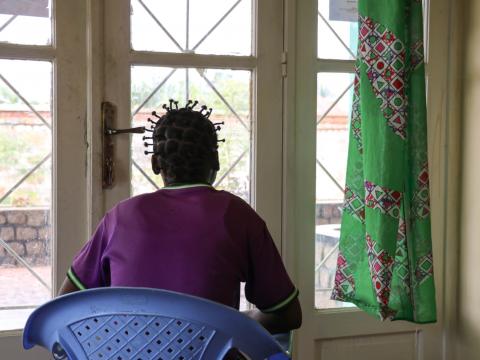 Forced into the militia in Kasai, DRC
Monday, November 6, 2017
Before the crisis that swept the Grand Kasais last year, 14-year-old Tshibola lived with her Mum and two older brothers in a village not far from Tshikapa, in Kasai Province in central DRC.
One day her sister called to ask Tshibola if she could come and watch her nieces and nephews for a few days, while she and her husband, who were both in the military, travelled to Tshikapa to collect their salaries.
Tshibola agreed and headed to her sister's village to look after the children for three days. But when her sister and brother-in-law were in the military transport headed home, the militias attacked their truck. Tshibola's sister and others were decapitated.
Tshibola was at their house alone with the children when her brother in law arrived, shirtless, and told her of the news. He told her to hide in one room, and he took the children to hide in the other.
A few hours later Tshibola was woken by the sound of guns as the militia, all with their red bandannas, surrounded the house. They broke in and found Tshibola where she was hiding. Her brother-in-law and the children were nowhere to be found. They had run off in the night, leaving Tshibola behind.
The militia searched the house for any weapons that might be left behind, but found nothing. They tied Tshibola up, and were ready to kill her.
"I told them," Tshibola said, "'My sister is dead, and my brother in law has run off. What do you have against me?' But they said that I was from a military family. That was my crime."
But instead of killing Tshibola, they offered her the choice of joining the militia. Kidnapped, far from home and without a choice, she agreed.
"We spent two days where they do the ceremonies," Tshibola told me. "They gave me alcohol, and on the second day they said we were going into battle." 
"The military started shooting when we arrived, and I fell to the ground."
Tshibola had been shot several times in the legs. "The son of the military commander had been forced into the militia too, but he was killed."
The military tried to treat her, and later transported her to the military camp in Kananga, in Kasai Central, to get treatment. After two weeks, the military brought her to MSF. Finally, at the beginning of September, Tshibola arrived at a centre for demobilized children, limping on crutches. 
Now, in mid-October, Tshibola is one of the only children still at the centre, waiting for news of her family. She's still limping, but can move without crutches and is getting stronger all the time. What's happened to the rest of her family, however, is in question.
"Before I left to go to my big sister's house, we didn't have the militias at home. It was only when I arrived in her village that I found the militias. I haven't spoken to my family since to know if the movement started where they were."
The centre is currently in the process of tracking down Tshibola's family, but it's proved difficult. They've left messages with different pastors and churches, hoping that the community word of mouth, so often the way messages are passed here, will work for Tshibola too. With no news so far, it's starting to seem likely that her mum and brothers may have fled to Angola or are hiding in the bush like so many others. At the height of the crisis, an estimated 1.6 million people had fled or been forced from their homes. After months of relative peace, only about half have returned home.
When I ask Tshibola what she wants to do in the future, the answer is simple. "I'm waiting to go home so we can find my mother and I can go to school."
Tshibola's brief but harrowing experience in the militia has left her with physical scars that will last a lifetime, and probably emotional and psychological ones too. But that giant smile that eats up her face gives me hope that we still might be able to get a bit of her childhood back for her.
As I leave the centre after an afternoon of interviewing the girls who remain, all four of them are laughing and playing on the swings outside. If you blur the photo a bit and ignore the scars and location, they could be four teenage girls hanging out, almost anywhere.
*Tshibola's name has been changed to protect her identity and keep her safe.
World Vision declared a Category III National Emergency in the Kasais in June 2017, and has been targeting 146,000 beneficiaries in the Grand Kasai region, as well as refugees who've fled to Angola. Initial interventions focus on food and child protection, with a fundraising goal of 2million USD.
World Vision is working with UNICEF and the local government to get children back into school, and is opening six Child Friendly Spaces in Kasai Central, where displaced, demobilised, and other children affected by the conflict can play and process their experiences. Working with World Food Programme we have also distributed foodstuffs to more than 90,000 food insecure people in Kasai Central.
There is limited funding for psychosocial support for ex-combatants, and lack of awareness on the overall crisis. Children are the main victims of tribal and ethnic violence, but there are huge fears that former child soldiers will rejoin armed groups and continue conflict without psycho-social support. Much more needs to be done.