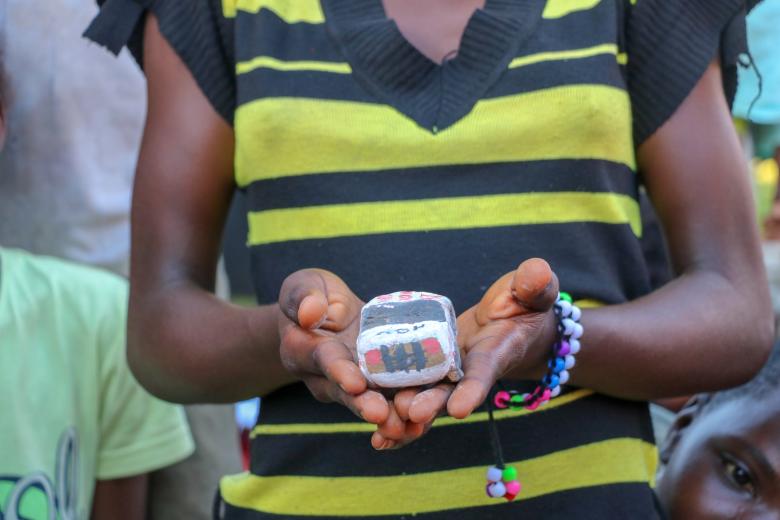 Free from the militias, a fresh start
Tuesday, February 26, 2019
More than 1,000 children are running and playing at our Child Friendly Space in Tshimbulu town, the second largest city in the Democratic Republic of Congo's Kasai Central province. An exuberant group of musicians and dancers are shaking and smiling at the back, and to the right a mass of toddlers sit and play with dolls. Some adolescent girls are painting rocks and making mini replicas of cars with bits of discarded plastic, and a scrum of children are playing multiple football matches at the entrance to the field. It's a picture of organised and joyful chaos.
Just over a year ago this town was relatively war torn, as families arrived home after months spent intermittently fleeing for the bush as battles swept through. Down the road, a police post still stands in ruins from the violence that rocked this province. In August 2016, Tshimbulu was the site of the first major battle between a local militia and government forces in a conflict that spread rapidly and saw thousands of children enlisted in militia groups. After a year of relative peace, things are beginning to get back to normal now as schools are rebuilt, but most families in the city eat only twice a day (and in the villages, just once). Hunger is one of the most widespread effects of the conflict. The other is psychological.
In the relatively quiet back corner of the Child Friendly Space, our psychiatrist, Vincent, is sat with three young boys. 13-year-old Albert was part of the group of children who attacked the town in August 2016. He'd been recruited into the militias early on, when his mum left him in the care of his grandpa after the death of his father. 
"First of all, we went to CENI [the independent electoral commission] and ransacked their offices. Then we came to the centre of town and killed seven policemen. In our group, there were also five militia members who died."
"I was fighting with a stick. We said a prayer and then we could use the stick like a gun."
Thankfully, Albert's time in the militia was short-lived. His older brother heard that he'd gotten mixed up in the group and came to find him. He brought him to live with his own family, and got the young boy enrolled in school. Albert credits his brother with keeping him out of the rest of the conflict. 
"When I heard the bullets here during later battles, I felt really bad and my soul felt like it was pushing me to go and fight. But I didn't leave, because I was well disciplined by my brother." 
Like brothers Francois and Paul, who are sat next to him, Albert has been working through his experiences through sessions with Vincent. Beliefs in mystical powers and 'fetiche' are widespread here, and the boys describe being hit with machetes but remaining unwounded during initiation ceremonies. 
Francois and Paul joined the militia almost a year after Albert left it. The brothers credit their grandma and deceased parents for mostly keeping them out of the militia.
Paul, 16, explained, "In our family we've left beliefs in fetiche behind. Before our parents died, they taught us that we can't follow fetiche to our deaths. Our father was a pastor."
Even though the boys didn't feel pulled by the magic of the militia, they did finally join when the threats against them became too much. 
"We joined because the children who had already joined the militia were bullying me a lot," Francois, 13, explained. "They'd say 'How do you just go on like this; we're going to decapitate you…' I wanted to live in safety, and so I chose to join them for the protection."
Despite joining, however, their grandma's iron will kept them from battle. "After the ceremony, they always tried to force me to go and fight. But my grandmother wouldn't let me go, and I didn't want to go either." Francois added. "My grandma told me, "If you go sleep at the foyer [the ceremony area for militia], I will eat you, after killing you. So I always stayed with my grandma at night."
Today the boys are back at school and have received support from World Vision through catch-up classes and back-to-school kits with pencils and notebooks. Francois says the Child Friendly Space has really helped him to process his emotions since the crisis, but he and Paul are worried about their futures. Their grandma is 72, and only able to farm a small plot of land. Like Albert, all three boys have had to grow up much too soon as they lost parents and saw the horrors of conflict all too closely. However, they're building fresh starts for themselves, and between the support of their relatives and World Vision they have every chance of graduating from school and achieving their dreams.
World Vision's Kasais Emergency Response has been working in the Kasai and Kasai Central provinces of the Democratic Republic of Congo since July 2017. To date the response has reached over 615,457 people, including 48,306 children like Albert, Francois, and Paul through child protection and education programmes.
*The boys names have all been changed to protect their identities and keep them safe.