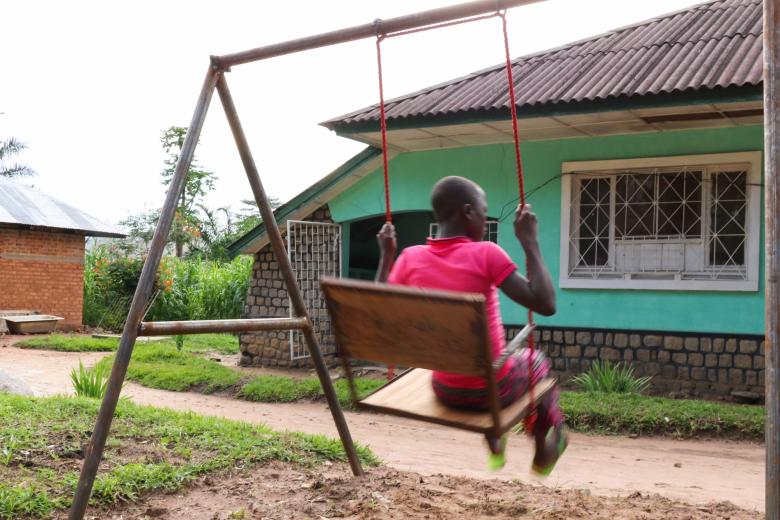 Hope for the future from an ex-child soldier | Kasais Crisis DRC
Thursday, November 16, 2017
Ngalula is a mischievous 12-year-old with a great big smile. She's also spent the past few months living at a centre for demobilized children in Kasai Central, after being forcibly inducted into the local militia here last spring.
As the anti-government militias swept Kasai Central in early 2017, Ngalula had no interest in joining. She and her family had a good life in a village on the outskirts of Kananga, and Ngalula was in fifth grade at the local school. One day, one of her friends asked her to walk with her. 
"I didn't know where we were going." She told me. "We got to the forest where the militia had their camp, and as we got there I told her, I don't want to join the movement; my parents don't want me to join. But she told me 'if you don't join we will kill you,' and I was scared so I told her that instead of killing me I would join the militia."
The militia members then accompanied Ngalula home to tell her parents she'd joined. Theoretically, the rule for the militia was that children couldn't join without the support of their parents. When Ngalula told her parents, her father became upset and urged her to leave the militia; the other children in the militia threatened to kill him if he did not accept.
"From the time I joined the militia, I always stayed with the militia at their camp. In battles, I collected the armed men's bullets and spent casings. I fought with a stick and a machete to kill the armed men. I spent two and a half months in the militia." 
"I didn't like staying at the camp and living with the militia; I just wanted to go back to school. I wasn't happy in the movement at all. We ate, but not regularly, and there were lots of days where we went to bed hungry." 
"Our chiefs didn't go into battle, they just rested at the camp. They would just send the children on their own to fight. In the militia there were other children my age, some who were older, and others who were younger (7, 6, and 10-year-olds)."
"I saw children killed by the armed men in Nganza, there were children who were 6, 12, and 7-years-old killed during a battle. My uncle's son was killed by armed men too."
"When the armed men saw that we'd killed a lot of them, they called in reinforcements and the other armed men who arrived killed another two militia members."
"I didn't enjoy being in the movement, I didn't see anything good come out of it. The worst part was going into battle without having anything to eat. Sometimes we even went three days without eating; we always went to bed hungry."
"My thoughts always went to my education; I didn't want to be in the militia."
"It's hard now to face the fact that I gave up my studies. My parents are still in our village. I want to go home so I can go back to school."
As Ngalula and I finish talking, she leads me outside to a swing set where the other girls at the centre are all playing. Forcibly recruited or eager militia member, physical or psychological injuries – at the end of a long afternoon listening to their stories, it's really heart-warming to see all four girls together, just being children. Ngalula sits down on the swing on the end, and as she begins to swing, up and down, I'm hopeful that she and the other girls here are all going to be able to recover, reunite with their families, and get back into school. There's a solid chance their childhoods aren't over just yet.
*Ngalula's name has been changed to protect her identity and keep her safe.
World Vision declared a Category III National Emergency in the Kasais in June 2017, and has been targeting 146,000 beneficiaries in the Grand Kasai region, as well as refugees who've fled to Angola. Initial interventions focus on food and child protection, with a fundraising goal of 2million USD.
World Vision is working with UNICEF and the local government to get children back into school, and is opening six Child Friendly Spaces in Kasai Central, where displaced, demobilised, and other children affected by the conflict can play and process their experiences. Working with World Food Programme we have also distributed foodstuffs to more than 90,000 food insecure people in Kasai Central.
There is limited funding for psychosocial support for ex-combatants, and lack of awareness on the overall crisis. Children are the main victims of tribal and ethnic violence, but there are huge fears that former child soldiers will rejoin armed groups and continue conflict without psycho-social support. Much more needs to be done.