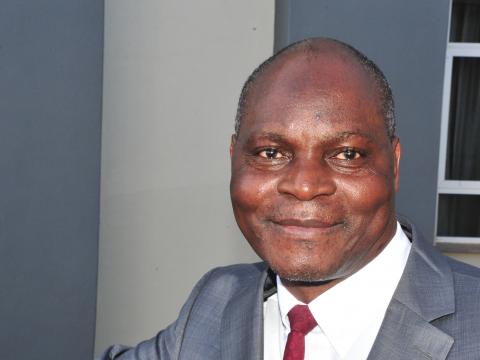 A man of many questions
Friday, March 17, 2017
A Man of many Questions: Former World Vision Kenya National Director Mr. Dickens Thunde
A sense of anxiety would come upon you, at the thought of accompanying the former World Vision Kenya (WVK) office National Director (ND) Dickens Thunde, for field visits to WV Kenya Area Development Program (ADP). The questions that came to mind about travelling with the ND, how the journey and its eventualities pan out, are all too real.
Fear of man is a snare, and travelling to the field with the ND Dickens Thunde as he is well known by WV Kenya staff, has been both a learning curve and an inspiration. Contrary to the thoughts that an ND would seek to be controlling, unappreciative or critical to your work is quite the contrary with our former WV Kenya National Director. Me and the ND? a terrifying mindset engulfs you and the thought that the ND will either be a control freak and not appreciate what you are doing, or too harsh to contain any nonsense you commit while working.
The reality check upon several visits, years later is that fear is a component that causes staff members to miss the whole essence and purpose of a field visit. On the contrary, especially when you're from the Communications Department, it is important to learn how to ask the right questions, for as anyone accompanying Dickens to the field knows, "He is a man of many questions."
My experience
On 13th of July 2016, I left the office on a four-day-field-visit with the ND. It was a great opportunity, yet scary at the thought that I was cooped up in the same car with World Vision Kenya National Director Dickens Thunde and.WV Kenya liaison officer David Chege and Me. And true to the earlier description, he did not disappoint as I sat there and contended with the many work-related questions he had. The most I could do, was answer the questions to the best of my capability.
Our first stop was in Orwa Area Development Program (ADP) located in Elgeyo Marakwet County about
The ADP staff had prepared well and it was pleasant to watch them receive the ND with such warmth. After introductions were made, the usual occurred: Mr Dickens ventured into asking the staff questions, with regards to projects, programs and funding. He was interested in hearing how their daily work went, while they were on the fie
Our next stop in Soin and Ngoswet ADPs, the cycle repeated itself.
Dickens had questions for the staff, which focused on the goal, strategy, indicators and achievements of the programs. At Soin, he issued a pop up quiz to the staff on how to write an effective report, which both Mr Thunde and Northern Regional Manager Catherine Timbomei, marked. Accompanying us on this trip was World Vision Kenya liason officer David Chege, with our role being, to read and vote on the best drafted piece of report. The ND awarded marks on the reports submitted, a matter which did not quite end during this particular juncture.
I was curious, as I watched the ND with my renewed mind and kept asking myself, why does the ND ask so many questions?  Travelling back, and with eager desire to learn, I made the bold move, to ask him just that. "Hello, Mr. Thunde," I began.  "Why do you ask so many questions? I wasn't quite ready for his response, but the lessons I learnt that day, were both mind-boggling and thought-provoking.
To the query - Why the many questions? He said: "This is the beauty of the work you carry out. You need to have a clarity of mission; where you are going and how will we get there. That is the objective, how will we know we are on the right track and if we are achieving our goals?
He continued, "Speak to anyone with your eyes closed and everyone will appreciate what you are doing. You have got to show your work. A few Area Programme Managers that I have visited, are relatively new.  My approach is to give World Vision Kenya staff, tips on how to pass exams. Then you can later come and say, "Thank you."
Mr. Thunde explained further: "You see, I am giving you examination tips. If you did exactly as you are instructed and work towards an exam, within a year you will stand out over the Area Development Programs (ADPs) around you. You will be able to provide key evidence on working towards achieving your goals by 2017. That will enable the regional and national office teams, to achieve their goals."
He said that it was needful to surround your team to understand the language of questions and monitor how through actions, various staff in the ADPs were progressing, towards that particular direction. It is at that point that you really begin to enjoy your work. He added, "We have already seen tremendous work from World Vision Kenya ADPs across the counties we work in Kenya."
One thing that stuck out through this conversation, about our ND: He is a Man of many Questions, offering ideas and solutions on how to tackle issues. He went on: continued explaining: "During the stops with every team, the questions I ask stimulate things and unravel things one would never have thought of before. Leverage and influence in the community comes with questions asked.
A simple analogy sealed the factor on questions and more questions:  "There is a guy who sits on a gold. I unsure about the nutrients under the soil and whether or not, they can produce the best vegetables. Our job is to create issues that can deal with a bumper harvest to help such a guy to get to reach his optimum.  That, there is our value- addition and with that we say, that we helped this farmer to get from one point to the other. He or she, can become a model farmer and get others to learn from how he conducts farming on his own piece of land. Then, the community will improve their economic livelihood.
He adds that, "When you ask questions, you build the capacity of individuals and increase the overall resources. As such, our analogy works: We find a man sitting on his soil worth "gold", we introduced him to a new farming technology and he becomes worth three million Kenya Shillings annually and all because, you ask the right questions.
I learnt a lot on this trip, with an impression made on me, once I comprehended the "why" of Mr Thunde's myriad of questions.
 "In mentoring and motivating others, always ask questions without intimidating, or becoming intimidated by others.  Always ask seek to know the Why, Why, Why; for the "Why" of doing anything is important if you want to grow," concludes the outgoing World Vision Kenya National Director, Mr. Dickens Thunde.
Written by
World Vision Kenya
Communications Officer
Zipporah Karani