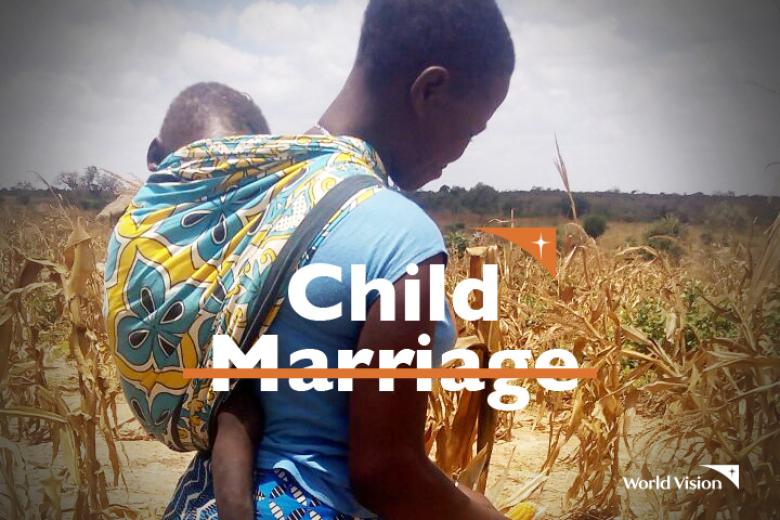 For the Price of a Goat
Friday, March 9, 2018
By Cynthia Doresi
From a-far one can tell that she is very young not even twenty five yet. "I have never been to school…I was married off at a young age, I don't know my age," says Nyota. Child marriage is a common thing in Kilifi County. When you visit the homesteads, it doesn't take that long before you notice the age difference between a husband and a wife. I recently visited about seven homesteads, and in five of the homesteads the age difference between the husband and the wife was over twenty years. In one particular homestead, there was an eighty seven year old man who had lost his wife and then remarried a young girl who is about forty five years younger than him. Old enough to be her father or even her grandfather.   
Statistics published on a monthly publication of the African Woman and Child  (AWC) Feature Service (an NGO that reports on Gender and development issues), it states that In Kilifi County, between the periods of 2016-2017, there were 54 child marriages of which 22 were in the age bracket 11-15 years while 23 were in the age group 16-18 years. Those on the age group 18 and above were nine.  
Dressed in a flowery dress, eloquent in her speech and well composed, yet with a devastating story to tell, one would not guess that Nyota has had more than her share of troubles. Her remaining two year old daughter whom she carries on her back is the evidence of her story.
Having visitors is usually a pleasant thing and everyone, especially children are usually excited anticipating a good meal to follow. However, for Nyota* this was not the case. Like any other child she grew up normally up until the time some visitors came to her home… "When I was a child, some visitors came to our home and we didn't have anything to give them, so my father went and asked for a goat from a neighbor and told him that he would pay him back," Nyota narrates.
"After some time... the neighbor came and asked my father to return his goat but my father did not have money, so my father suggested that he gives me to the old man in marriage as a payment for the goat!" says Nyota.
"I cried so much, however, since my family would not defend me, I decided to run away to my relatives, there again I was told that there was a man who was looking for a girl to marry. I did not want to be married, but this time I could not escape it."
"The man was old and he took me by force… His wife had died and left eight children…"
"Some of his children were older than me and some my age mates and younger." She adds.
Nyota ended up giving birth to five children, with two of her children dying soon after birth. Her first born is about twelve years, the second born is about nine years, then she had twins, who sadly died at one month. Her last born is two years. Nyota says that the twins died of witchcraft, "…my husband never cared about me and he was involved in fishy business and I think it was witchcraft. When I got the twins, they were okay but after sometime they started turning darker and darker like they had a disease, and one died then the other followed. They died after a span of one month."
According to Nyota, the family later moved to live in Mombasa which is where her husband worked. Mombasa is about seventy eight Kilometers or two hours' drive from her home in Bamba in Kilifi County. Soon, her husband got another job and really came home to Nyota. She imagined that he must be up to some mischief, since it wasn't clear what kind of work he was doing, yet he always seemed to have money.
"One time I was seriously ill and although my husband was informed, he never came to help me…I suffered so much until my father told me that I could come back home. I packed my clothes and went back home with my two year old daughter and left my two children because my husband would not let me go with the other two children." says Nyota.
Nyota's story is a representation of many girls who go through forced child marriage in Kilifi County. Though child marriage is illegal in Kenya, it is culturally accepted and widely practiced. Community mindsets must change, since many went through the same thing as Nyota, and do not see anything wrong with it.
According to a 2016 report by UNICEF on the State of the World's Children, Each year 15 million girls are married before the age of 18. That is 28 girls every minute. One every two seconds.
Child marriage disrupts the girl's life as a whole the health, education, physical stability, emotional stability, sociological stability and psychological stability and many aspects of experiencing life as a whole. Some of the complications that child marriage brings about are complications in pregnancy and childbirth, and these (pregnancy and childbirth) are the leading cause of death in girls aged 15-19 globally. 90% of adolescent pregnancies in the developing world are to girls who are already married. 50% when a mother is under 20, her child is 50 percent more likely to be stillborn or die within its first weeks of life than a baby born to an older mother. UNICEF
World Vision works towards life in all its fullness for every child. We endeavor to end any form of violence against children with the help of families, communities, authorities, donors, religious leaders and other partners. It takes us all to end violence against children. To support and learn more visit #ItTakesUsAllKE campaign page.
 (*not her real name)