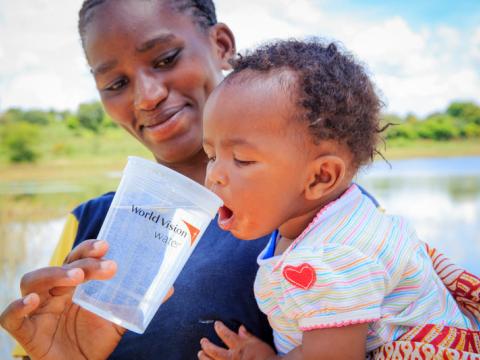 Water, Sanitation and Hygiene (WASH)
Goal: Improved Access to Water, Sanitation Facilities and Good Hygiene Practices
The well-being of children and families is impossible without sustainable, equitable access to clean water, dignified sanitation and appropriate hygiene behaviours. When these three factors come into play, children and their families are protected from infection, diseases and injury; living healthy lives. We believe  every child deserves- and has a right to  clean water. We are determined to ensure it!
 
Achievements: Financial Year 2018 (Oct 2017-September 2018)

Approaches
Some of our WASH approaches include: Integrated WASH, Baby WASH, Community Led Total Sanitation (CLTS), School Led Total Sanitation, Sanitation Marketing and Design for Behaviour Change (DBC)
Areas of Focus:
1. WASH Governance and Financing
We work with the National Government and County Governments, and with community health volunteers at local levels to support community mobilization to raise awareness and promote uptake of good WASH services and practices. We also partner with the Ministry of Water and Sanitation to  train water management committees on water governance.
We collaborate with governmental and non-governmental stakeholders to influence government plans and budgeting processes. This way, we ensure resources are well-distributed in areas of need. Through supporting the formation of Citizen Voice and Action (CVA) groups, communities advocate to county governments for improved service delivery at all levels.
Our WASH program uses a  community-based participatory approach and Public Private Partnerships (PPPs) to support sustainability. The main objective is to address the inherent operational, maintenance and management challenges WASH projects have experienced due to a lack of long-term sustainability and accountability. 
2. Sanitation and Hygiene Behaviours
The Community-Led Total Sanitation (CLTS) approach is a key behaviour change approach we have adopted. The approach enables community members to improve their communities through actions such as advocating for latrine construction and has proven successful in Kenya. Other approaches we have successfully used as part of our behavior change strategy, include faith engagement, peer-to-peer education, and BabyWASH.
The integration of faith and WASH is gaining momentum. When faith leaders are trained on improved sanitation and hygiene, they can then disseminate WASH messages to their congregations.
We also focus on inclusion to ensure that water projects consider the needs and security of vulnerable groups such as children, the elderly, women and people with disabilities (PWD). In order to have equal access to the WASH interventions, these groups need special accommodations, which include program location, accessibility, reliability and affordability. Representation from these vulnerable groups is also required in the WASH management committees.
Menstrual Hygiene Management (MHM) in schools has also been a focal point for WASH programming. We have equipped some schools  with MHM facilities. These MHM facilities are comprised of a small private washroom next to the toilet stalls where girls can manage their menstruation with dignity.
Our current WASH projects includes water user association members being involved in Village Savings and Loan (VSL) groups. The water user and sanitation groups utilize the water kiosks as a business opportunity by collecting fees from facility users, which are then used to fund operations, maintenance, and overall water management. This method keeps the committee united and reduces the risk of water revenue mismanagement.
Other initiatives include establishing income generating activities like livestock management and small-scale irrigation, where available water can support VSL groups. We have also trained artisans to make concrete latrine slabs, pit lining, and superstructures, which supports local entrepreneurship and increases latrine affordability for households working to improve their sanitation.
World Vision promotes hygiene in schools by establishing school WASH clubs and training students to lead peer-to-peer educational activities (e.g. hygiene and sanitation campaigns). School WASH clubs play an essential role in sustaining school water points, latrines, and hand-washing facilities. Children who participate in WASH clubs are usually eager learners, leaders, and effective change agents within their schools, families, and communities.
3. Access to Safe Drinking Water
World Vision has made significant strides in promoting sustainable access to safe drinking water in Kenya. We have formed and  strengthened water user committees, who manage water projects even after the project ends. We have also ensured access to safe water through technologies such as boreholes, pipeline extensions, spring protection, shallow wells and rainwater harvesting systems.
Access to water during emergencies is critical. Several of our projects have focused on providing safe water for vulnerable communities in fragile contexts. The provision of these projects includes boreholes, pipelines, spring protections, rain water harvesting infrastructures, water pans and rock catchments, primarily in Arid and Semi-Arid areas.
We also work to mitigate the effects of flooding and droughts by lining latrines with trapezoidal blocks to manage collapsing, and by constructing water harvesting systems for water conservation efforts. In areas prone to drought, boreholes with solar powered systems are constructed to incorporate multiple use water to provide water for livestock and small-scale irrigation.
4. Management of Water Resources
World Vision Kenya  has contributed to the water policies and regulations for several County Governments in areas of operation such as Wajir and Makueni Counties.
Also, upon discovering mismanagement of financial resources by water committees, we have adapted an innovative and transparent approach for collecting water revenue. The use of AQtaps (an automated water dispenser) for piped-water systems was determined to be the best option to improve water sector governance and management, reduce operation costs, and increase water service delivery. By using a key card, community members can transfer funds to their account through a mobile money platform, which tracks transactions and secures the funds.
A key focus area for World Vision Kenya  is advocating against water source contamination, which includes enhancing sound hygienic practices for safe water handling from source to point-of-use at the household level. Communities build capacity around the 3R principles of reduce, reuse and recycle to enhance efficient water use. For example, in urban areas that have high amounts of water waste, households that use pour flush toilets are encouraged to use water from washing clothes for flushing the toilet, and to use waste water from the kitchen to water the garden.
Projects and Grants:
1. Kenya RAPID (Resilient Arid Lands Partnership for Integrated Development)
2. TWIP (Turkana West Intergrated WASH Program)
3. Turkana South WASH and Livelihoods
4. Osiligi Baby Wash
5. Osiligi Intergrated WASH
6. Osiligi WASH infrastructure Improvement
7. KIWI Basefund
8. Parkuruk Primary Education and WASH Project
9. Noloroi Primary Education and WASH Project
10. Kenya Safe Water Proctor & Gamble grant
11. Sook WASH Grant