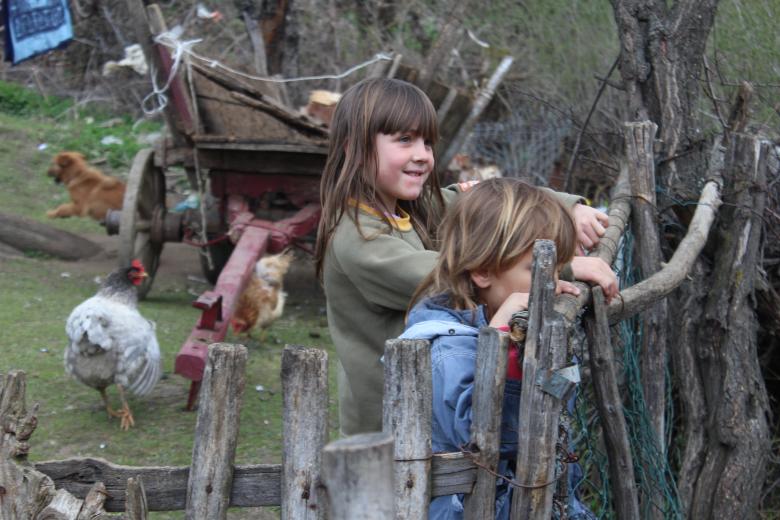 Building peace by making others happy
Friday, May 20, 2016
The war in Kosovo and its wounds are still tangible. Many young adults lived through the conflict. Others have been influenced by ethnic tensions of their families and communities. Instead of holding on to the past and their differences, the youth from World Vision's Youth for Peace clubs are trying to build peace.
Nikola,a 17-year-old Serbian boy, remembers how he became part of the clubs after World Vision employees came to his school and explained what the project was about. "In the beginning, I wanted to join because I though it would be fun to spend some time out of home and school. But, when we started the activities, I understood what was the project really about. I understood: the project was what we [as a country]needed. It was about peace," he says.
Together with Jelena, Filip, Lidija, the other members of the Youth for Peace club in Suhodoll, Nikola has been part of different initiatives that have it made possible to have road signs in their villages so that the children can walk to school safely and not be threatened by cars; they have taken care of and entertained children during summer camps, and lately they decided to raise money for a family in their community in extreme need. "There are many poor families in our village and we want to do something to help them so we started with one family," says Filip, 16. The family consists of four children between the ages of 2 and 7 who live with their father, because the mother left them two years ago, when the youngest brother was only two months. "They live in a ruined home and they are poor," says Filip. "The father can't work because he has to take care of the little ones… beside this it is very difficult to find a job here," he continoues.This family is just one example of the estimated 29.7 per cent of people in Kosovo who live in poverty.
In order to be able to help the family, the youth first informed their community about this family's condition. Next, they invited their parents on a meeting. "They put up posters in the village and visited their schools because they wanted to advocate for the family; they really wanted to help them," recalls Olgica, World Vision staff.
With the help of their parents and other pupils in the school, they were able to collect clothes, food, toys for the children as well as some chairs and blankets. Next, they asked the other club members of Kraishta to join them in visiting the family. "This is what we do: we learn, we share and we collaborate with each other," explains Nikola.
Meanwhile, Krenare, 16, an Albanian girl, part of the Kraishta youth club, is still surprised why Nikola and his club asked her to join them. "When they told [to come meet the family], I was surprised. They did the entire job, they were the ones who got tired and then they invited us to go with them," she says.
Once they had packed all they could gather for the family and the children, they went to visit the family. At the request of World Vision staff, the Gjilan municipality provided them transportation as the family lives in a mountain village.
Serbian and Albanian youth came together, united for the same purpose. "The only barrier we have is language, but we speak with signs," says Nikola, laughing. This is just one example which illustrates the amazing work these youth are doing for their country, how they build peace by making people happy and sharing love. "It is important to have peace, to corporate with each other, because we live in the same country and we have the same problems, hopes and dreams. We dream of peace," ends Filip.
***************
The Youth for Peace network is an extension of the Kids for Peace clubs started in Kosovo 10 years ago. Both clubs share the same mission: to promote peace and love for the children of Kosovo. Currently, there are 16 Kids for Peace clubs across Kosovo with more than 300 members. When children reach 14, they can apply to be part of the Youth for Peace networks. To date, World Vision has established 5 local Youth for Peace networks where a total of 150 youth are participating and 1 Youth for Peace national network with 25 members. The participants are from both the Albanian and the Serbian community. Some of them have been part of the project since its beginning and have seen the peace clubs come to life.