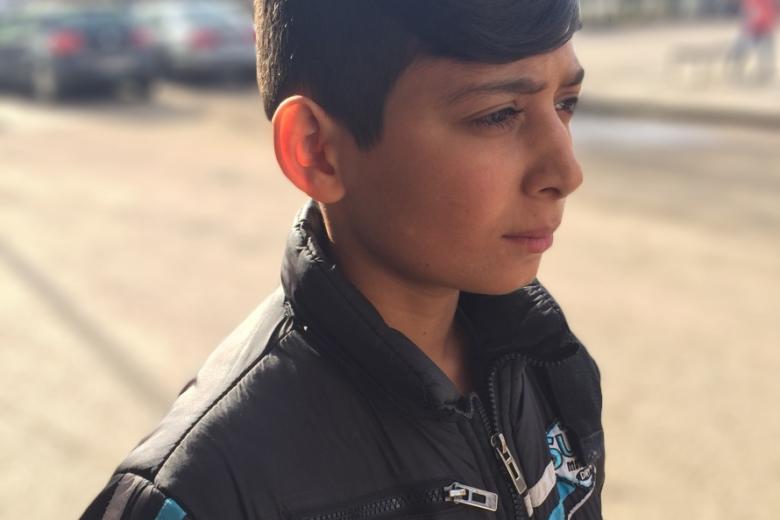 From child labourer to child rights advocate
Wednesday, December 9, 2015
Rafet, 14, a Roma child from Kosovo, used to think that working jobs for himself and his family, even physically demanding ones, was his duty as a child. He also thought that working was more important than going to school and earning money more important than an education. Rafet used to spend his days collecting plastics and transporting heavy loads to help his family.
His work not only robbed Rafet of his energy, it also prevented him from attending school. Participating in the awareness activities organised by the Local Initiatives for National Change (LINC), a 18 months project funded by World Vision Australia and implemented by World Vision and the Health for All (a local partner) in Kosovo, helped Rafet understand his rights and change his mind. "I now help my parents around the house and go to school," he says. 
Today, not only is Rafet aware of his rights, he is also coaching many children in his community, helping them to understand their rights as well. Now, Rafet attends school regularly. His grades have improved and he is one of the most active children in the project's initiatives. "I knew little about my rights before joining in the activities," he recalls. "Here, I have learned that nobody should treat us violently, force us to beg on the street or work!," he says. "They [adults] have taught us so much about what we should do, and nothing about what to not to do," he adds.
Before Refat started to attend school regularly, World Vision and partner organisation made lots of awareness meetings with his parents, informing them that compulsory education is a right for every child.
In the area where Rafet lives, a child was bitten by a street dog and lost his life while working on the streets to collect plastics and cans. "That made Rafet's parents reflect," says Orjana Demaliaj, World Vision's LINC Project Officer. She adds: "Rafet's father, an erector by occupation, is trying harder now to find a job and work to help his family and save time for his children to attend school. Two of his oldest sons have emigrated to Germany and they are helping the family, somehow, too," she says.
Rafet is a member of one of the six advocacy groups, three children and three community groupses, tablished over the past ten months in: Fushë - Kosovë, Lipjan and Obiliq Kosovo's communes, areas with the highest number of marginalized groups of Roma, Ashkali and Egyptians, groups of people who typically lack information in regards to child rights and social protection services, live. Each group is composed of 15 participants, composed of children, youth as well as social protection workers and people with disabilities.
The project is focused on training groups in local advocacy techniques and strengthening them to raise their voices in order to influence child protection at local level (with a special focus on vulnerable groups, such as the Roma, Ashkali, Egyptian, among others). The project is also helping members to influence implementation of social protection service policies so that they, themselves, can push for enhancing a social assistance scheme and reduce the cases of child labour. The LINC project is working to reach 102 direct and 350 indirect beneficiaries, including children, community groups and centres for social protection workers.
 After learning a lot in the training sections, Rafet is sharing his knowledge with his siblings and schoolmates in order to show them what their rights are. Rafet shares his personal experience with other children working improper jobs for their ages and motivates them to spread the knowledge gained during the training as much as possible.
"In my neighbourhood, I know many children who work. They go early in the morning and come home at night. There are many girls whose parents don't allow them to go to school or play.  Instead, they force them to work, collecting [plastics] or washing cars on the streets. I often see their parents shout at them. I think what is happening to those children is not right and I have to help them!," Rafet says.
He uses his time at school and his acquaintances in his neighbourhood to share the news of the children's rights. "During the school break or even in the neighbourhood, my friends and I tell other children about what we learned at the group and that we should not work, nobody should [treat] us violently or force us to beg on the streets," Rafet says smiling.
Thanks to what Rafet shares, in his family even his siblings have changed their mind-sets. "My brothers and my sister have started to go to work rarely since I told them that children under 18 should not work. Instead, they should go to school," he says.
[1]UNICEF estimates that 87 per cent of children who attend school in Kosovo work at least four hours a day and about 13 per cent of working children do not go to school at all. The number is particularly high among the Roma, Ashkali and Egyptian Communities.
With regard to child protection, the system remains fragmented, both at central and local levels. [2]Kosovo still does not have a specific Law for the protection of children, even though a draft has been compiled and World Vision has been part of this process. The rights of the children are being addressed through administrative orders, regulations and/or through the law of education, health, etc.
Recently, as part of the project, Rafet and his group friends have written a clause regarding child rights law which has been sent to the parliament to approve. The clause says that no child should work! Instead, children should pursue the compulsory education.
"I know how they feel and I don't wish to see any child in such conditions. Even though children are little, they should be respected and protected from adults!" he states.
Rafet wants to become a doctor when he grows up and heal all ill people, especially children.
Ends
[1] (UNICEF Kosovo, Child Poverty in Kosovo. Policy Options Paper and Synthesis Report. Prishtine, 2010)
[2] Kosovo 2013 Progress Report, Accompanying the document Communication From the Commission to the European Parliament and the Council, Enlargement Strategy and Main Challenges, 2013-2014.