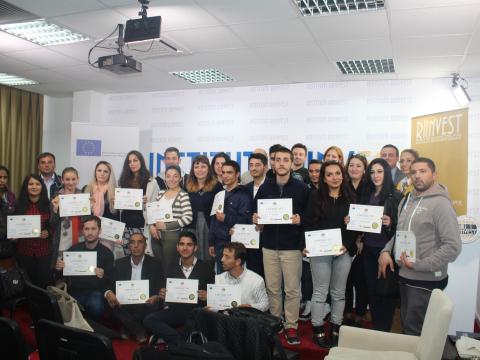 Strengthening the civil society through training sections
Monday, November 16, 2015
Led by World Vision and partner organizations Terres des Hommes (TDH), 22 employees from 11 targeted NGOs representing Roma, Ashkali, and Egyptian society from six municipalities in Kosovo attended a month-long training on project management. Participants learned how to build a project proposal and how to manage it, how to analyze finance, taught about communication strategies and tools, etc. At the end of the training sections, the 22 participants were also certified.

"Now I am more informed in the field of the project proposal and I find myself more prepared," said Bajram Ilazi, one of the trained staff, a representative from one of the 11 NGOs.

The trainings were organised around the framework of a two-year European Union Grant Project, titled "Fostering Protection of Human Rights and Participation of Roma, Ashkali and Egyptian Civil Society", managed by European Union Office in Kosovo and implemented by World Vision.


The overall objective of the project is to strengthen Roma, Ashkali and Egyptian civil society to facilitate and influence decision-making at local and national levels for the protection of their rights. It also aimed to contribute to the full integration of Roma, Ashkali and Egyptian communities into Kosovo society.

"After this training they will continue with the next cycle of training which will be on advocacy," said Mimoza Gavrani, the respective Grant Manager. "The trainings are expected to take place during November and in the meantime the knowledge they gained during the first training sections they will use for applications on possible project proposals, depending on the calls [of] their donors," she said.

The project will be followed by some initiatives regarding children's rights, which will be led by the organisations' representatives.