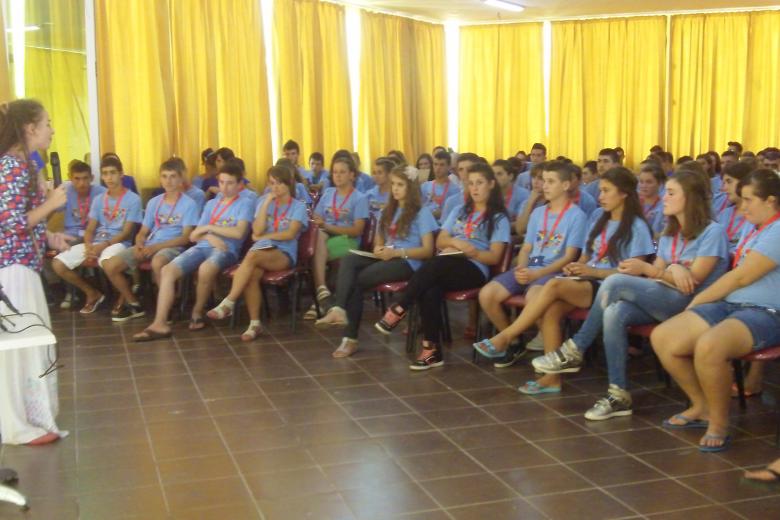 We want to heal this land --- this is our mission!
Friday, September 7, 2012
Youth Gather to Build a Brighter Future for Albania and Kosovo "I have a dream and this dream is to heal this land and these people…No matter where I come from, what religion I belong to even if I am white or black. I have a voice and together our voices have power strong to change the world." --- this is what said a group of youth from Vlora  in front of some of the most well-known media during three days at the World Vision National Youth Conference.
In 1963 Dr. Martin Luther King spoke in front of 100,000 people in Washington DC with his famous "I Have A Dream" speech, the most well-known speech in recent history and one of the strongest speeches ever heard. At this youth conference, King's speech bloomed in the heart of many young boys and girls in Albania and Kosovo who also have many, many beautiful dreams and a clear vision to contribute in their country, as Dr. King did.
In order to empower youth to better use their talent and energy to reach their goals for a better life, World Vision trained about 250 passionate and talented youth, mostly from poor villages all over Albania (from 11 Area Development Programmes)and Kosovo about how to use social media to promote and raise funds for their projects in order to bring positive changes in their lives, their families and communities.  Youth were guided in how to open, use and stay safe online when using Facebook, Twitter, Blogging and other social media.
The theme of this year's conference was the Power of Communication: how today's youth can utilize social media for positive change in their schools, communities and also at the national and international level. To train these youth how to use social media for change, World Vision hosted various motivational speakers and entertainers like the young Albanian singer from Kosovo, Rona Nishliu who opened the conference and Jarrod McKenna, an Australian Christian peacemaker/activist and a peace prize winner.
"One of the images foreigners associate with Albania is Mother Teresa," said Mr. McKenna, during his first presentation to the youth. "Today I see hundreds of Mother Teresas out there among you. You are the leaders of today. Yours is a peaceful and crowded movement which will bring light to the whole world," he said, looking in their eyes and seeing a lot of untapped potential.
"Youth are the agents of change for both countries," said Jurgena Hajdaraj, World Vision's Youth Program Manager. "Together we want to create space for all youth to channel their energies and strengths and lead the transformation in their communities, this time with new tools like social media, photography, videography and also other creative ways contributing to their cause," she said.
"Youth in my neighborhood spend a lot of time online, chatting or visiting their pages in Facebook.  Imagine what good things they could do if all this power was put to use for something good in the community," said Diamand Belba, one of the youth from Librazhd Area Development Programme. "Today I understand how precious our time is and how fast it goes by.  I will do my best to spread this information to them as soon as possible and guide my friends to give their energy to this country," he said. 
"Social media is our weapon to achieve our objective and reach a large audience," said Ilda Sulo, a youth from Vlora. "During these training sessions we learned a lot: how to open Blogs, to use Twitter and social media in general to raise funds and show the outside our work and passion for the change. Three years ago we as Vlora's youth raised funds to clean the toilets at our school. Now our plan is to do something bigger than this—we want to help Roma children learn to read and write, by providing a free course for them.  We will open a Facebook page and will fight to raise funds to do this," she said.
"We just need some help and then we can achieve the impossible," said Fatma from Kosovo.
(Building peace in Kosovo- video, World Vision youth conference)
"Our life in Albania is difficult and our past is sad, but our dreams are big and we are strong enough to make them come true," said a group of five youth from Vlora Area Development Programme to hundreds of others during the training sessions. "Each one of us is like a beautiful and special flower and together we are a bunch of them, united and ready to make this world beautiful too," said one youth from Lezha.
Beside straining and fun games, youth had an opportunity at the conference to present their achievements and plans during the last year. Each ADP highlighted their successes with youth, including: leading summer camps and bringing fresh ideas to better host children and help them have a great time at camp, building a kindergarten and reconstructing schools, cleaning up the environment and encouraging the community to keep it clean, open photography exhibitions,using their power to say Stop! Things that are wrong, creating volunteer groups to help community progress, and many more youth oriented efforts all around Albania.
"What these youth are doing is amazing," said Mr. McKenna, as he spent more time with them. "They made me cry and their passion and love for helping Albania & Kosovo progress touched my heart deeply," he concluded.
In addition to the conference in Tirana, a Youth Fest attended by more than 450 youth at the Cultural Centre in Durrës, Albania launched the "Year of Youth"with World Vision in Albania and Kosovo.  This year of youth will create an environment where youth themselves will create all types of activities to help the country in the coming year.  It is World Vision's hope that these activities will empower even more youth to become leaders of the present and the future for Albania and Kosovo.
"It is You who will decide what Albania will look like in the future. You will determine how your neighborhood will look like. You can make very positive change in this country," said Jay Porter, from the US Embassy, at the opening of the Youth Year event.
"We will not wait for politicians to change this land. We will do this ourselves. Person to person, until our lives are better,"  youth embraced Mother Teresa quote.