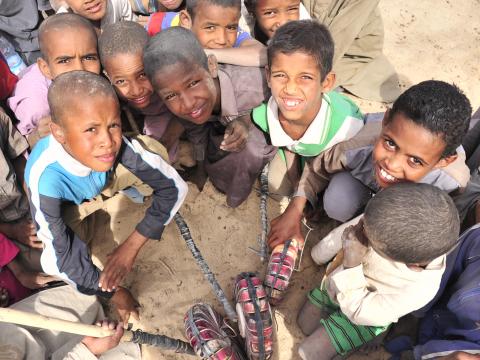 Playing is part of a child's nature
Friday, January 20, 2017
Children have something in common. They love to play. Children in conflict areas and displaced in camps as in the Lake Chad Basin (LCB), are not any different.
Ibrahim Mohammed (14) is a car maker in Sayam Camp, Niger. He drives –or let us say pulls- his prototype around the camp which is home for nearly 7000 people. His young friends follow in awe. The body of the mini truck is made out of aluminium mined from empty tins of vegetable cooking oil. The cooking oil was donated to the displaced communities from the government of the United States of America, and once the oil was consumed, Ibrahim saw an opportunity.  The tyres are cut out of used slippers and other rubber materials. "I saw the truck which brings water to the camp, and decided I could make design it," Ibrahim explains.
For Mohamad Mohamad it is a piece of art. He too draws his inspiration from life in the camp. "This is a drawing of this class where we come to learn and play at the refugee camp. There is an old person who comes to see us working, and here I have also drawn the world vision cars as well as a camera man who comes to take photographs," Mohamad explains his drawing. He is one of the children who attend the World Vision managed child friendly space (CFS).
Mohamad the artist is lucky to be attending school at the camp, while Mohamad the car maker is one of many young refugees affected by the Lake Chad Basin who are not in school. He gives a face to the recent announcement by the World Bank that 57 million children in the world still remain out of school! While humanitarians work to get him and his friends back to school, he has gotten himself into the business of making toys out of scrap so he and his friends can at least play. They often brave temperatures above 35 degrees celsius make the best of their time in a camp far away from home
It is for this reason that World Vision utilises the child ecology concept as a guide to improve child well-being and this is evident across its programming.
In conflict or crisis situation, child protection in emergency, programmes are implemented to provide spaces for children to play and express themselves. Unfortunately, the Child Friendly Spaces (CFS) put in to place and supported by World Vision together with other NGO's, are often insufficient to cover the number of children affected by a particular crisis. Such is the case in the Lake Chad Basin crisis, which is a largely forgotten crisis
In Diffa, ( Niger) WV set up a CFS in Sayam Forage refugee camp, which initially accommodated around 599 children , but today has more them 1 000. Unfortunately many children, mostly in transit camps, do not have access to CFS, yet they still have an amazing capability to adopt themselves to new environments and circumstances. This is exactly what, displaced children in N'gortogol and N'guigmi are doing to remain children.
Children, make toys out of old sardine tins and rubber. They also make dolls out of empty plastic bottles.  Not even life threatening conflicts can dim the creativity and joy of play for little children.
Frieda Mwebe, a World Vision child protection specialist responsible for the training and follow up of all the activities related to child protection in emergency, made this important announcement in the office one day: "Please note that we are collecting empty plastic water bottles, because children in the CFS, are using them to make toys. Thanks".  This gesture allowed for some children to get a toy for Christmas!
The support to our relief work, in the Lake Chad Basin response, will not only save lives, but will bring, joy, hope and protection to millions of children in the region. What you consider as nothing could bring a smile to one more child in affected communities surrounding the Lake Chad Basin. Don't hesitate to act on your desire to help.