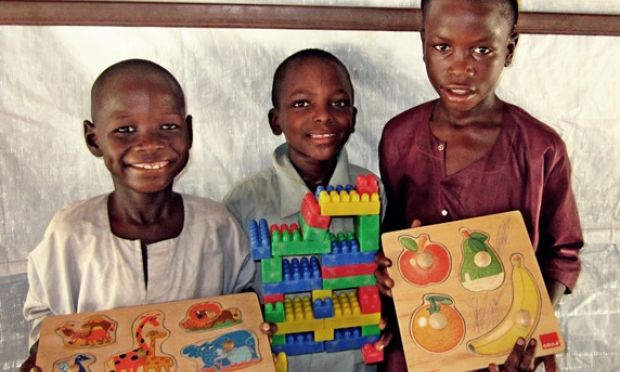 World Vision together with Aktion Deutschland Hilft, is setting up a series of Child-friendly Spaces (CFS) to help support the needs of children affected by the Boko Haram crisis which has forced families to flee from their homes in Nigeria and live as refugees in Chad and Niger.
In Diffa region of Niger, the Sayam Forage CFS opened its doors to children aged 2-18. Sayam Forage is a refugee camp located at 40 kilometres from the town of Diffa and is hosting more than 10,500 people. And the camp is still registering new arrivals each day from Nigeria. World Vision ensures these children receive psychosocial support, counselling and are educated on child rights and hygiene.
Fidele Nindagiye is World Vision's child protection in emergencies specialist for this emergency. He says: "A Child-friendly Space is a place for children to release traumatic experience and emotions they may have gone through. Children like to play a lot in normal situations. During stressful circumstances, playing becomes vital."
In the Lake Chad region, the forced displacements of thousands of people have caused a lot of trauma for children who miss their homes, schools and other family and friends. World Vision is establishing Childfriendly Spaces to address that need.
"World Vision uses recreational activities to keep children busy and help them release some psychological blockage", says Nindagiye.
Play is a powerful tool for psychosocial support for children in emergency situation. Children like being busy and through different games, they often recover quicker from traumatic situations than adults.
Ten-year-old Tchalou Alhadji likes coming to the Sayam Forage CFS where she enjoys stimulative games.
"I learn French songs with gestures, making a circle, up and down exercises, clapping hands, jumping, playing with animals' names. Using songs and fun, animators also teach us human body parts and how to wash our hands and clean our surroundings," she says.
World Vision with its partner Aktion Deutschland Hilft, has reached nearly 2,000 vulnerable children with recreational activities of child friendly spaces and is targeting 10,000 in Niger and Chad.
Despite this project, severe needs still remain in the region and Tchalou is unsure of what the future will hold. "My dream is to live, study and grow up healthy in a peaceful environment".