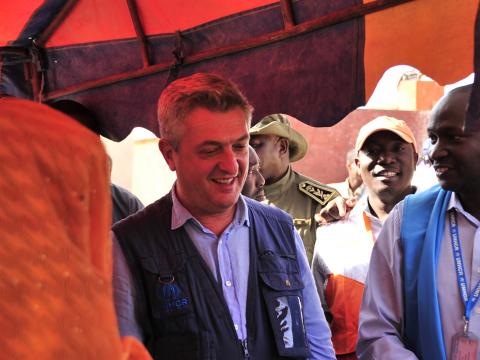 UN refugee official, Grandi, visits Diffa
Tuesday, December 13, 2016
World Vision Lake Chad Basin, Acting Response Director, Patrick Sooma, was among INGO who were invited to be part of HE Filippo Grandi, United Nations High Commissioner for refugee's official visit to Maine Sora town (65km from Diffa). The visit was in the company of Mama lawwan Madji, Niger humanitarian affairs minister, Laouali Dandano, Diffa Governor, UN agencies, Local and International NGO's.
The High Commissioner, visit intended to highlight the plea of the people affected by the conflict in the Lake Chad Region basin. In addition it was intended to high the desperate humanitarian situation characterised by limited services provision and significant shortage in funding. During his visit, he met displaced families, key humanitarian actors involve in the response to the crisis, and notably among them was World Vision.  
At the INGO meeting, he recognized and express his utmost gratitude with the visible coordination between NGO's and local government in the ground. At a personal level, The High commissioner appreciated the efforts of each individual, who risk their life to save others. Moreover, he assure all the humanitarian present, that after his visit of thefour countries affected by the crisis, he will advocate for more funds, to be invested to end this crisis.  In his final recommendations, he highlighted the need for humanitarian actors to start thinking of ways to help local authorities to implement long term development project in the region.
On its part World Vision message was a reminder about thousands of children are affected as refugees, returnees, internally displaced persons and host communities by the Lake Chad basin crisis: pointing that we all bear the responsibility for saving their lives and restoring the dignity especially those forcibly displace, especially the most vulnerable, not only through direct assistance but also by increasing the resilience of families to future shocks through improved livelihoods"
As rightly pointed out by the HE this crisis risks being one of the forgotten crisis unless no efforts are spared to marshal funds, support to deliver the much needed assistance.  With the over 1.5m Children affected, this is a crisis worst affecting the children the most.