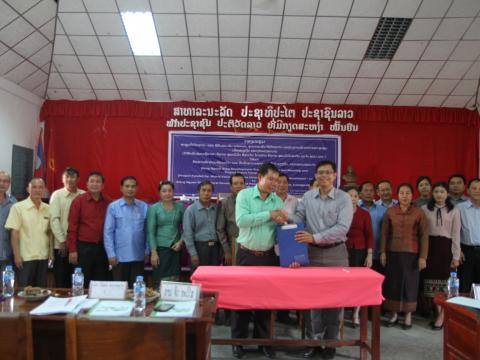 25 years of success- XiengNgeun
Friday, March 31, 2017
After 25 years, World Vision recently completed work in its first project area in Laos, in XiengNgeun, LuangPrabang province, which launched in 1991.           
Mr. Junus David, Operations Director at World Vision International Lao PDR spoke during the closing ceremony on 21 February, "The program started on a small scale with short term projects."
The projects included a combination of emergency relief and development projects.
"In 2003, more robust programs were rolled out, with the goal of long term impact, including teacher training and educating the community on subjects like child rights and sanitation. We have built a strong 25-year relationship with government partners and communities in XiengNgeun," Mr. David continued.
The project working area included 18 villages with 2,071 families, and a population of 11,980 people.
As with all working areas, World Vision commits to a program in partnership with the needs identified in by the community. Together, we look at what we can do together. Once the community is able to sustain the changes, we can move to other communities in need of support.
During the closing ceremony, Mr Saysamone Thidakhone, district governor of Xiengngeun, said, "I would like to thank you for your contribution to giving our children and our community access to clean water. Members of the community are now also earning a good income for their families and can support their children's education. We will continue to work and follow up on what you have done in our community."
Program Highlights
When World Vision started working in this area, life was very hard. Many families were farmers, but did not produce enough to support their households. The community lacked infrastructure like schools, health clinics and latrines.
Health 
To improve access to the basic health care, World Vision constructed two buildings at the hospital, and three village health care centers. Also, two village health care centers were renovated and provided with equipment.
Representative from the Kiewya health center, Dr. Kongsy Sysavat, shared, "Before, we faced many difficulties when there were too many sick people. We didn't have enough beds or medicine. Sometimes they had to leave and travel to the district hospital.
"After getting support from World Vision together with our government, now, we have more medicine to help sick people and the proper equipment. Our health center is more comfortable and villagers can come for the service regularly.
"While World Vision is leaving the area, we will continue to serve the communities with the equipment we received, making sure it is protected and maintained so it can be used to serve the community for the long term."
Water, Sanitation and Hygiene
World Vision provided clean water through infrastructure of community water tanks and gravity-fed water systems. This helped reduce the number of diarrhea cases. Additionally, 1,486 families have access to clean latrines.
Mr. Khanchanh Ouanthalang, a vice village chief said, "In the past, women and children had to carry water 600 meters up the mountain after fetching water at the river."
In 2005, World Vision together with the government, provided Mr. Ouanthalang's village with both community water tanks and a gravity-fed water system. With short trips to get water, women and children were able to focus on studying, looking for food in the forest or work on the farm.
Economic Development
In the past 5 years, World Vision provided training on agriculture and livestock raising. In total, 1,490 attended agricultural training, learning about different plant varieties like local fruit, sesame, maize and soybeans. They also learned about seed selection, timing and preparation of land, and plant care. Additionally, 760 farmers learned about raising goats, pigs and chickens.
"I am happy that I could attend this powerful training from World Vision staff and district agriculture staff. Raising pigs is very helpful for our family because we can sell the pigs to earn a stable income for our family, including supporting our children's education," said Mr. Thongsy Vilayssing. "As the program comes to a close, I promise that I will continue to move forward with the lessons I learned. I would like to thank the government and World Vision for supporting our community, especially my family to have a better life than before."
Community Safety Net
The village development fund allows families to save money, take small, low-interest loans for business development or to pay for emergency medical care.
Another safety net for the community was the implementation of a rice bank. If a family did not produce enough rice during the year, they could borrow at a low rate of interest from the bank to feed their family.
Phaly's story
"My husband and I came here to be volunteer teachers. My family suffered when the rice harvest was small. I was constantly worried about my children's well-being and thinking about whether or not we could afford school uniforms and materials for them," shared Phaly, 33 years old and a mother of two sons.
Sometimes they had to rely on the generosity of their neighbors for rice when the harvest was not sufficient.
Phaly and her husband not only teach and grow rice, but they also raise pigs.
 "We only had 2-3 pigs to raise, and we did not have the capital or technical skills to grow our herd," says Phaly.
 "In 2008, my husband and I borrowed money from the village. With a 3,000,000 kip ($375 USD) loan, we were able to buy four breeding pigs. In the last year alone we sold 16 pigs for a total of 22,000,000kip ($2,750 USD), while still keeping 12. These earning have allowed our family to live more comfortably and support our children's education," Phaly added.
Today, Phaly and her husband continue to teach in their community. Their small salary and the money earned from raising animals is now enough to provide for their family.
"I am very happy to have many pigs at home. I help my parents feed them in the morning, after school and on the weekends," Phaly's youngest son, Bandit, shares.
"I plan to raise more pigs in the future so I can continue supporting my children's education until post-secondary. I dream of seeing my children capable of supporting themselves and their families one day," Phaly said.