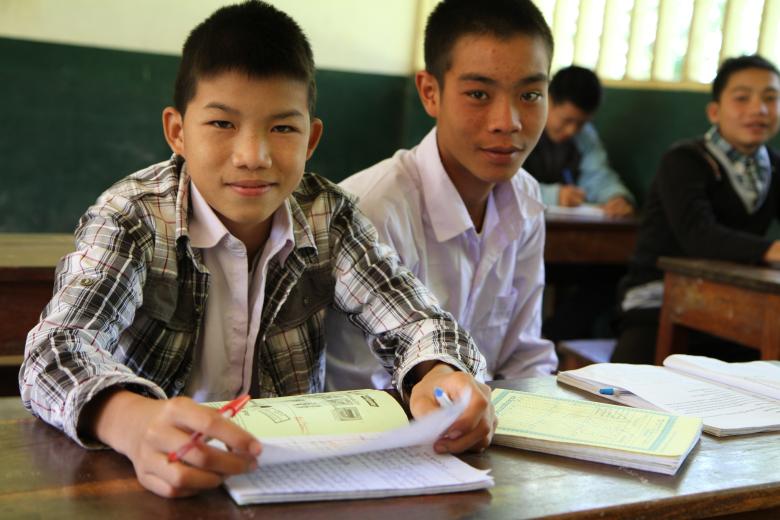 Animal fund brings hope to community boy who dreams of becoming a policeman
Friday, October 23, 2015
"I want to be a policeman," shares Bounhom, a 13-year-old boy in grade one of secondary school.
Now that his parents are involved with a World Vision program that helps families earn a stable income, his dream has a better chance of coming true.   
Bounhom is among the youngest of nine children in his family. Three of his siblings are World Vision sponsor children and thus were able to continue their studies in secondary school. However, three other children from the family had to drop out of primary school and two were never able to attend.
"It was very hard for us to support all the children in school," Seechanh, Bounhom's father says about the difficulties in raising nine children. "We also did not see the importance of keeping children in school. We just wanted them to help us work on the farm."
Bounhom's parents are subsistence high land farmers in Doun village where the family lives, 25 kilometers from Phonethong district center and 254 kilometers from Luangprabang city center. Their daily life depends on the harvest and non-timber products they find in the forest. 
"If there was no drought, no insect outbreaks, we would have enough rice to feed our family," says Seechanh. "We would focus more on hunting for food and looking for non-timber in the forest, such as bamboo, wild vegetables, mushrooms and other things that we can collect."
In Lao PDR, more than 70 per cent of the population is engaged in subsistence agriculture. Two out of three people live on less than $2 per day.
In 2011, World Vision introduced an animal fund in Bounhom's village to promote household food security and help the community generate sustainable income. A family is given 4 or 5 animals on loan for a three year period, and is responsible for their care and breeding. All of the offspring becomes property of the responsible family and following the three year loan, the original animals are moved to another poor family in the village.
Bounhom's family was among the 34 families in Phonethong Area Development Project who were selected to participate in this fund.
"We see the potential of raising cows because there are plenty of grass lands that can be developed into animal raising farms," says Ye Yang a Project Manager of Phonethong ADP. "District authorities were very supportive. They divided land for the community to raise big animals."
Through the fund, farmers also received training on the raising and caring of cows. "The families were trained on monitoring seasonal diseases, ways to administer vaccines, and breeding the animals to improve their family's income by selling the surplus animals," says Souksakone, food security coordinator at Phonethong ADP.
After the training, Bounhom's family received five cows─ four females and one male. "We were very happy to receive those cows. It was an asset to our family," says Bounhom's mother Say, 47.
Bounhom's family paid special attention to the care of their cows, and were successful in breeding 8 calves during this three year period.
"We are happy to see an increase in the number of baby cows," Say says proudly. Last year her family shared their five cows with other families so they too could breed their own. The family also sold two cows and was able to earn 7,000,000LAK ($875USD).
"It was a big amount that we are able to earn," Say continues. "Because of this amount, we were able to send Bounphom, Bounhom's older sister, to study teaching in Nambak district."
"The animal fund is very useful; it improves living conditions for the families," says Xiengkham, the village chief of Doun. "Many families in our village are able to provide for the needs of their children and some are able to support them with continued studies."
"This will be something I can pass on to my children and use to support Bounhom in becoming a policeman, like he wants" Seechanh says with a smile. 
Bounhom's family is also involved in a cash crops growing program. The family immediately prepared their land to grow chili, onion and garlic a few days after the completion of training. "I did not want to delay the growing. I want to try an idea that I have learned from World Vision," Say says. The family is currently able to earn an additional 300,000 to 500,000LAK ($37.50 - $62 USD) per month from selling produce. This additional income adds to the money they make from their cows and rice harvests.
Bounhom's family is on the path to financial stability. "He is very lucky to grow up with World Vision's project in the village," Say says.
Apart from the animal fund, World Vision set up a rice bank, renovated the water system, trained a teacher, provided school materials, supported a mobile clinic and medical fund as well as empowered local authorities and families to take ownership of their community development. With 90 households in Doun village and a population of 556, including 166 registered sponsor children, World Vision has helped empower a whole community.