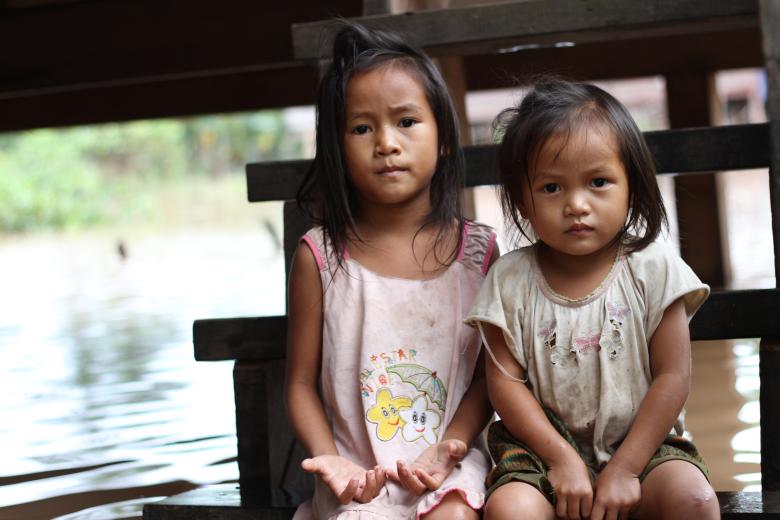 Blog: Children Eager to Return to School After Flooding
Tuesday, September 24, 2013
By Amelia Merrick, World Vision Lao PDR National Director
I've flown to Pakse city a few times. It is a short flight and we follow the path of river for the last stretch, from Vientiane. From the air I started to understand the impact of the "worst flood to hit Soukhouma district in 35 years."  The water was brown and murky; and the banks of the river had swelled over, blending greens and browns where rice paddies once grew.

From Soukhouma town our all-women's assessment team put on fluorescent orange life jackets and gingerly loaded on to the a rickety old long boat. It was wooden but motorized and had an inch of water on the floor boards.

On the 20 minutes journey to Muang village I was shocked when Lattana, our local Sponsorship Coordinator pointed out the tops of trees and fences barely popping from the surface of the water.  It is hard to believe that a meter below the wide, opaque river are rice fields, almost ready to harvest.
Muang village is poor so it is not hard to realize that the "everyday" problems of food security, health care, schooling will become far more difficult as a result of this flood. 
Less than half of Laos girls complete secondary school.  On the best of days Muang's village school only goes up to third grade.  Children entering fourth grade need to take a small boat to a neighboring village school.  The children tell me that it is sometimes unsafe (besides World Vision's life jackets I have seen few others) and that it is expensive to take the boat to school. Many families simply cannot afford it and so children drop out far too early.

World Vision is concerned about how the flood will further exacerbate barriers to education for children living in poor isolated villages in Southern Laos.
When the flash flood hit "Led" village the tables, chairs, books and supplies were swept away.  Hundreds of children in Led, Muang and other villages still cannot go to school – for some their schools or school furniture are damaged, for others it is just too wet to get there.   Today is the sixth day that children, like Om are not in school. 
Om tells me that she was very afraid when the flood hit, but she is ready to get back to school.